Living in metropolitan regions of the world comes with its own downsides. For example, your everyday commute to work reduces the ability of your skin to fight pollution and kills your cells that perform several essential functions. From Monday to Friday, your skin has to face the contaminants and toxins in the air and water. This is why weekends present a perfect opportunity to detox your skin and prepare it for the battles of the oncoming week.
A lot many people ask me how do I keep my skin crystal clear, well this is one of the several things I commit to on weekends to ensure that my skin stays healthy and breaths normally. Trust me; it is easy. You need to do the following:
No Makeup Days
Do not indulge in makeup on weekends. If necessary, wear the minimal makeup look. Go for skin-friendly cosmetics. And as soon as the need to have made upon the face eliminates (like once the party ends), clean your face with olive oil. Olive oil has several benefits. When applied on the skin, it rehydrates the skin, clears the pores and fights the germs. You could also develop a skin care routine for day and night and follow it like a religion for as many days of the week as possible. However, make it a to-do to be done on every weekend at least.
Understand The Chemistry of Free Radicals
Free radicals are the molecules of different substances present around you (for instance, pollutants) that can harm the skin. Helping your body in fighting free radicals is one thing that will help you have healthier skin. Our body cells contain a compound called: glutathione. This substance is a complex compound made of three different amino acids. Together, these amino acids fight the radicals and keep them away from your skin. Therefore, it is crucial to maintain a healthy level of glutathione in your body. As we grow old, the levels of glutathione decline, and we need a supplement that can assist the body in maintaining healthy levels of the chemical in our cells. I rely on Glutone 1000 for my needs. It is effective, affordable and easy to use.
A little about GLUTONE 1000
As discussed a while ago, glutathione is body's own antioxidant which is critical for optimum health of every cell. It's often referred to as the master antioxidant as it is essential for healthy immune function, detoxification, and skin health.
Glutone 1000, Glutathione, N-Acetylcysteine & Vitamin C Effervescent Tablets contains the world's best Glutathione, "SETRIA Glutathione"
KEY INGREDIENTS & ITS BENEFITS:
L-Glutathione:
Improves skin tone in both exposed & covered body parts
It is a master anti-oxidant
Improves Skin Lightening&Reduces Wrinkles
Vitamin C :
Helps to improve absorption of Glutathione
Contributes to normal immune function & collagen synthesis in Skin
It is an essential water-soluble Vitamin
Helps to increase intracellular stores of Glutathione
Works in synergy with Glutathione
N-Acetycysteine :
Improves the body's Glutathione Level
Precursor of Glutathione
It acts as an anti-oxidant
Helps to reduce free radicals
Role of Vitamin C
Vitamin C is yet another component that plays an essential role in improving the quality of the skin. Vitamin C acts as an anti-aging substance. It plays a vital role in our body's natural collagen synthesis. Moreover, Vitamin C reduces fine lines and wrinkles, making the skin appear brighter and younger. You can either consume citrus fruits like lemon and oranges to push Vitamin C in your body or apply oils and ointments rich in Vitamin C. However, the weekend is a small time to regain Vitamin C through fruits. Therefore, ESCOR-Z is my recommendation if you are looking for a natural way to replenish Vitamin C in your body quickly. This product is delivered in tablet form. Drop a tablet in a glass of water consumed the solution orally.
ESCOR Z
Escor Z is enriched with Phyllanthus embelica extract, considered as a rich source of Vitamin C. It helps fight free radicals, boosts collagen and lightens the skin. Presented in effervescent format it's the right choice of your daily health drink.
Skin is always busy fighting with the enormous quantities of free radicals produced by virtue of biological reactions and critically because of external insults such as UV radiations, pollution and chemicals
HOW TO USE IT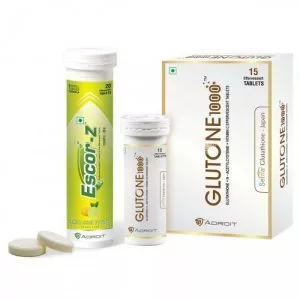 Add  1 tablet of glutone 1000 and 1 tablet of Escor Z in a glass of water and wait for 2 min for them to completely dissolve and then can be consumed like any liquid drink.
It is advised to consume daily in the morning, empty stomach.
For effective and actual results, you have to take them for a minimum of 4 months and the results will be visible after 30+ days with optimum use and proper diet.
So, this is my healthy skin secret and you can buy it from here.
Get Some Exercise
Sweating is another vital thing that your body needs. When you sweat, a lot of different toxins come out of the skin along with the sweat. While this leaves your skin high and dry, it ensures that it is still healthier. Take a bath after the exercise and use some moisturizer to keep your skin smooth and hydrated. A good moisturizer combined with a source of Vitamin C like ESCOR-Z ensure that you have a healthy and glowing skin ready for the Monday morning.