The cosmetic industry in India is booming these days. Many new products are entering the market, but all of them are loaded with chemicals that will harm your skin in the long run. People suffer from various skin problems these days. Still, one miracle plant from Ayurveda can be the panacea for skin-related issues.
Aloe vera products have magical healing properties and bear significant importance in the world of Ayurveda and modern medicine. Aloe vera juice can also treat people with a weak digestive system. Now it has particular importance in cosmetic and personal care products. Let's discuss which are the five best aloe vera gel for Indian skin.
WOW Skin Science 99% Pure Aloe Vera Gel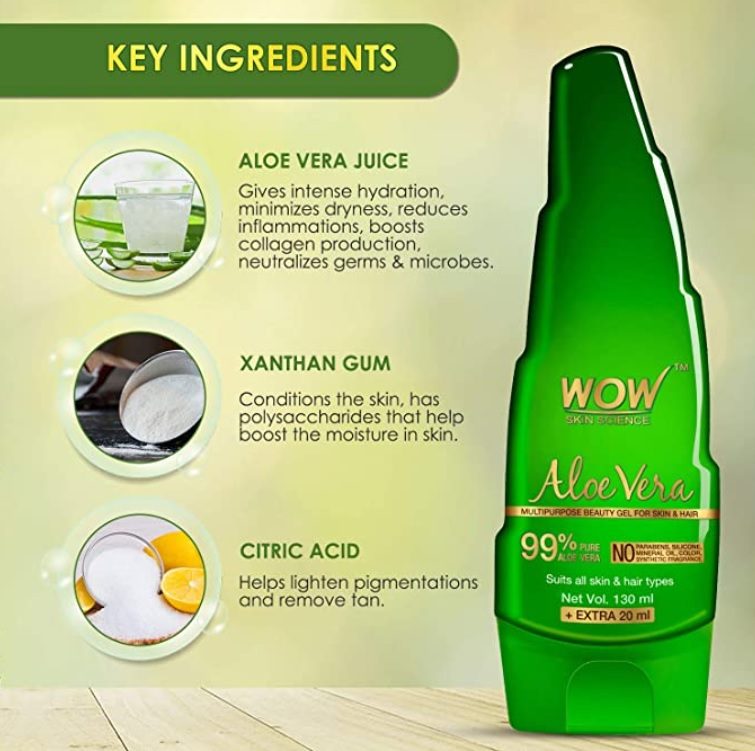 WOW Skin Science 99% Pure Aloe Vera Gel is extracted from aloe vera leaf. It can be used for both your skin and hair. The products contain various types of nutrients and vitamin A, C, E, B12, folic acid, etc. The gel is completely natural and has nourishing and moisturizing properties. This product can also be referred to as aloe vera multipurpose beauty gel.
The extraction and packing process is completely hygienic and maintains all the natural goodness of aloe vera. The best thing about aloe vera products from WOW is that these are natural products. There are no chemicals added at all, and you can go through product descriptions and reviews about it online that speak the same.
Apart from the fantastic aloe vera uses, the packaging is lightweight and travel-friendly, so you can always carry it around with you. You can use aloe vera beauty gel to protect your skin from the sun, especially during summertime. It is one of the best gels available in the market. You can check out this product here – WOW Skin Science 99% Pure Aloe Vera Gel.
Plum Hello Aloe Just Gel
As the name suggests, Plum Hello Aloe Just Gel is extracted and prepared in a traditional way from the natural aloe vera plant which keeps all of its healing and soothing properties safe. It is known for its effectiveness on all skin types. If you undergo the product reviews, you will find out that this gel profoundly penetrates the skin and rejuvenates it, and makes it glow naturally.
The main reason behind the popularity of this gel is its effectiveness and purity. This natural aloe vera gel is entirely non-toxic, and no chemicals are added since it is extracted from the aloe vera plant; It can be used regularly without harming our skin. It is also helpful in treating skin disorders. Check out this product here – Plum Hello Aloe Just Gel.
Forest Essentials Pure Aloe Vera Gel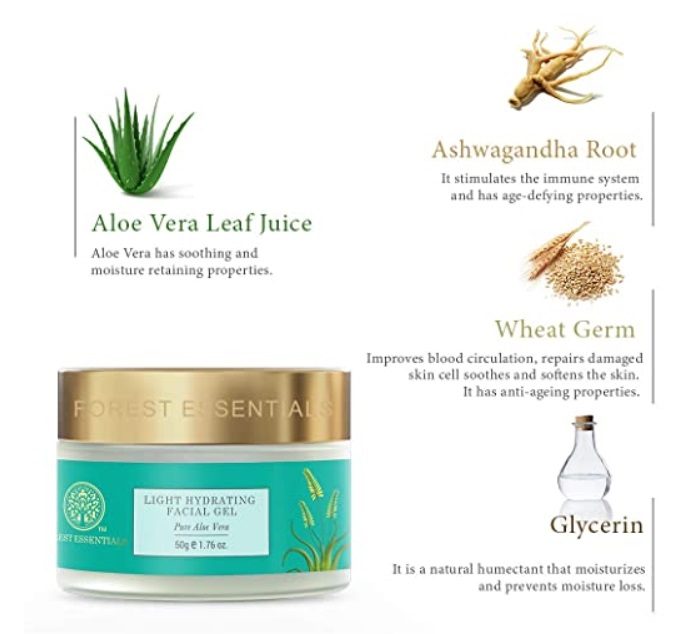 The Forest Essentials Pure Aloe Vera Soothing Gel is very light and is excellent for moisturizing and nourishing. All thanks to the natural medicinal properties of Aloe vera, it rejuvenates the skin blossom naturally.
The aroma of aloe vera beauty gel is calming. The goodness of cucumber, aloe vera, and glycerine all together make it an excellent thing for the skin. The products of Forrest essentials are mainly known for their purity. The Aloe vera gel comes with real floral essence, which will soothe your skin and mind as well. The packaging is handy and eco-friendly as well. You can use aloe vera gel by Forest Essentials for healing and hydrating dry skin naturally. You can check out the product here – Forest Essentials Pure Aloe Vera Soothing Gel.
Aroma Treasures Aloe Vera Gel
The Aroma Treasures Aloe Vera Gel is a natural medicine with anti-bacterial and anti-fungal properties. It can be used on the body, hair, and beard also. Best for hydrating and moisturizing during dry days, using it regularly will help you maintain healthy and soft skin.
The healthier your skin, the younger you look. This gel also contains nature's most refined oils like rosemary, tea tree, lavender, jasmine, peppermint, lemon, etc. Applying this Aloe Vera gel and resting for 15 minutes is a type of meditation itself. The calming and cooling natural aloe vera gel heals your skin, and the fragrance of nature takes you to a different world.
For best results, one can make a daily habit of using it 2-3 times a day, and within a few weeks, you will see the difference. It suits all, whether infants or adults. Check out Aroma Treasures Aloe Vera Gel here.
Just Herbs Aloe Vera Facial Massage Gel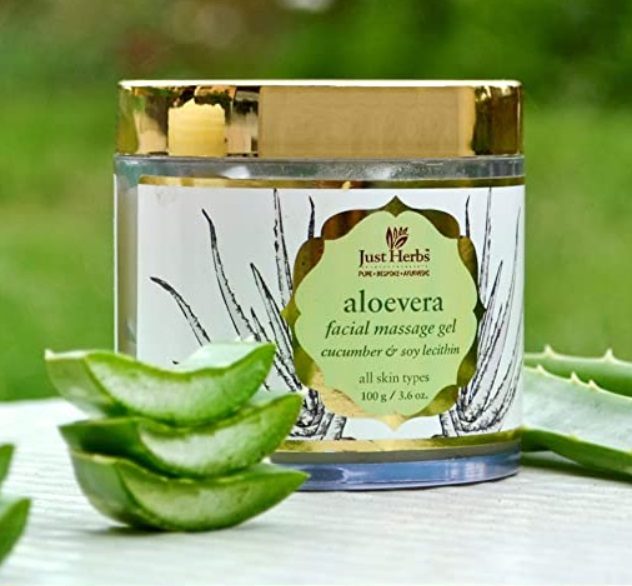 The Just Herbs Aloe Vera Facial Massage Gel is best for oily skin. It moisturizes and nourishes the skin by penetrating profoundly and without making it greasy. It can be carried around easily, is lightweight, and can be applied quickly anytime.
Just Herbs Aloe Vera Facial Massage Gel is made from natural aloe vera plant, is paraben-free and completely natural and contains various kinds of ayurvedic herbs suitable for skin all age groups. Massage your face with it daily, and you will get softer, smoother, and glowing skin naturally. Thanks to its natural healing properties, which are effective on minor cuts and pimples on the skin. You can also use aloe vera gel as an after-shave. Check out Just Herbs Aloe Vera Facial Massage Gel here.
Finally…Best Aloe Vera Gel
We discussed the 5 Best Aloe Vera Gel for Indian skin with all of their properties and advantages. We hope this post had helped you in understanding the importance of aloe vera products for healthy skin. Let us know which product you like. You can easily shop for all these aloe vera gel online.