Nose pins have been a part of Asian Tradition and culture, especially in India for centuries. In recent decades the trend of nose pins is spreading far and wide, all over the world. Nose pins used to denote the marital status of women in ancient ages, but not it is worn as an elegant par of jewelry and is a prominent piece of jewelry at weddings. It is believed that nose pins make a woman more desirable and beautiful. With its craze coming back again in modern times, many varieties of nose pins are available in the market like wire type, screw type, and ring type in a wide range of colors, designs, and patterns. Confused about what to choose from the vast sea of options of CaratLane nose studs and rings?
Let us help you in finding the best one for you with these top five Chic Caratlane nose studs and rings
Do you prefer minimalistic nose ring designs, and want something for everyday office wear? Then this is the perfect option available for you in the collection of nose rings and studs. Available in two variants of 14 Kt Yellow Gold and 18 Kt Yellow Gold with one single IJ-SI diamond-studded, this ring is perfect for everyday wear and will complement all your outfits. This elegant design matches well with formal wear, casual outfits, and even along with party wears. This vibrant nose pin will add a little bit of glow to your beautiful face.
If you are not fond of gold and prefer white shades more than yellow, then this is another option to add to your stock of minimalistic daily wear jewelry. This nose pin consists of a single diamond set in 18 Kt Yellow Gold. Do you have a versatile character and want your nose pin to match your personality? Then opt for this nose pin. It matches well with all sorts of outfits and enhances your beauty by adding shine to your glowing face. This nose pin can be paired with any other type of diamond jewelry.
Are you looking for a sleek nose pin design? Then this is the top option for you, tiny diamonds studded in a single line on 18 Kt Yellow Gold. This not only works as everyday wear but also blends in for occasions. This nose pin is perfect for you, if you are looking for something a little more shiny and bright than the previous two options, but not too overpowering for regular use. It features seven diamonds, like the seven stars in the Sapta rishi constellation. Doesn't it sound like the nose ring that would make your inner beauty shine and bring out the star in you?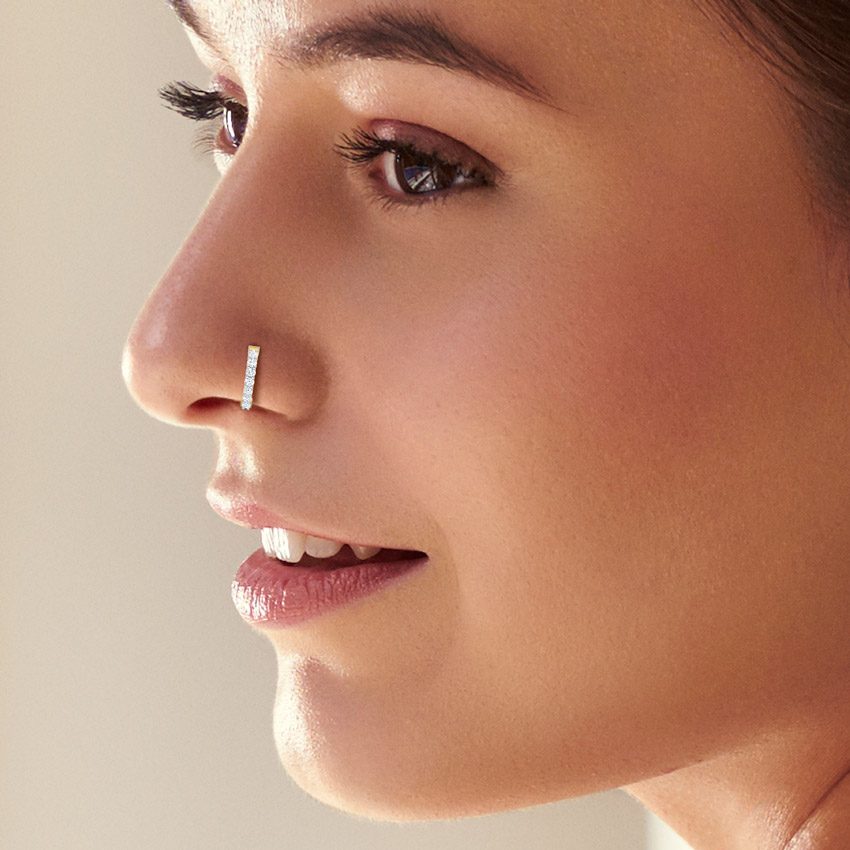 Heart designs have made their way into every aspect of jewelry nowadays. Not only are these pattern trendy, but also add a cute side to one's personality, highlighting the adorable, playful side of your personality. Hearts shaped nose rings do not only look modern but also gorgeous. This nose ring features a 0.05Ct IJ-SI diamond-studded inside an elegant shaped 18 Kt Yellow Gold Heart. This would match very well with casual and formal outfits and also look good with celebratory outfits.
Looking for something more detailed and traditional to wear as a nose pin? Then here comes the nose pin from the evergreen collection of floral CaratLane nose studs and rings that would Accenture the freshness and new life in you. Floral jewelry denotes fresh blossoms for modern brides and new beginnings. Many designers have been eloquent on the inclusion of floral patterns in daily wear nose pin series, especially to suit women of every kind.
I hope this article has helped you picked your desired nose pin or nose stud to suit your unique personality. Keep Slaying!