Acne is a skin problem that doesn't go easily and sometimes leaves behind ugly scars. If you consult a dermatologist, he/she might ask to change your daily skincare regime and make some dietary changes. A dermatologist might ask you to use specialised skincare products, such as acne removal face wash, mild cleanser, natural moisturiser for sensitive skin, etc. Now the problem is many of us don't know that cleanser and face wash are two different products. As we don't understand the basic difference between face wash and cleanser, we can't make our daily skincare routine right.
When it comes to including both in our daily skincare regime, you must know the characteristics of both. Let us take you through the difference between the two. Also, we will also suggest the best face wash for women according to their skin type.
What is the difference between Face wash and Cleanser?
The formulation of face wash and cleanser is different. Let us understand the difference between the two:
Face wash is foam-based, but cleanser is non-foaming.
Cleanser is more gentle than a face wash.
Although face wash is for deep cleansing, it might not remove the makeup residues.
Cleanser is best to remove the excess oils and makeup residue.
Face wash dries out the face, but cleanser is hydrating and moisturising altogether.
Best Face Wash for Each Skin Type
Commonly if we classify the skin type we get four categories – Oily, Dry, Sensitive & Combination Skin. Oily skin produces excessive oil, mostly along the T-zone which means forehead, nose, lips and chin. Dry skin has less moisture content and might feel itchy and dehydrated. Sensitive skin is very prone to acne or breakouts, and only specialised skincare products should be used. The combination skin can be either normal to oily or normal to dry.
Face Wash for Sensitive Skin
If your skin is sensitive and you often get skin problems like breakouts, blemishes, acne, dark spots, etc. You should be extra careful when picking up a face wash. Every product may not be suitable for your skin type. Go for ultra-gentle acne removal face wash that is soap-free and has natural ingredients. Parabens are very harmful to your skin. Hence look for paraben-free products. Check out the best anti-acne face wash in the market:
Clovia Botaniqa Anti-Acne/Pimples Natural Face Wash (Ayurvedic) Tea Tree, Clove Oil & Vit E 120 ml

Enriched with the goodness of Ayurveda and natural ingredients like tea tree oil, clove oil & vitamin E that are best known for their anti-fungal and anti-acne properties. This face wash is free of chemicals, parabens, sulphate and toxins.
Clove oil combats bacteria and vitamin E reduces inflammation, tea tree oil controls excess oil production and removes skin impurities. The face wash is great for sensitive and acne-prone skin.
Anti Acne Face Wash for Oil Control, Pimples Repair & Glow with Neem, Basil, Tea Tree & Aloe, 115g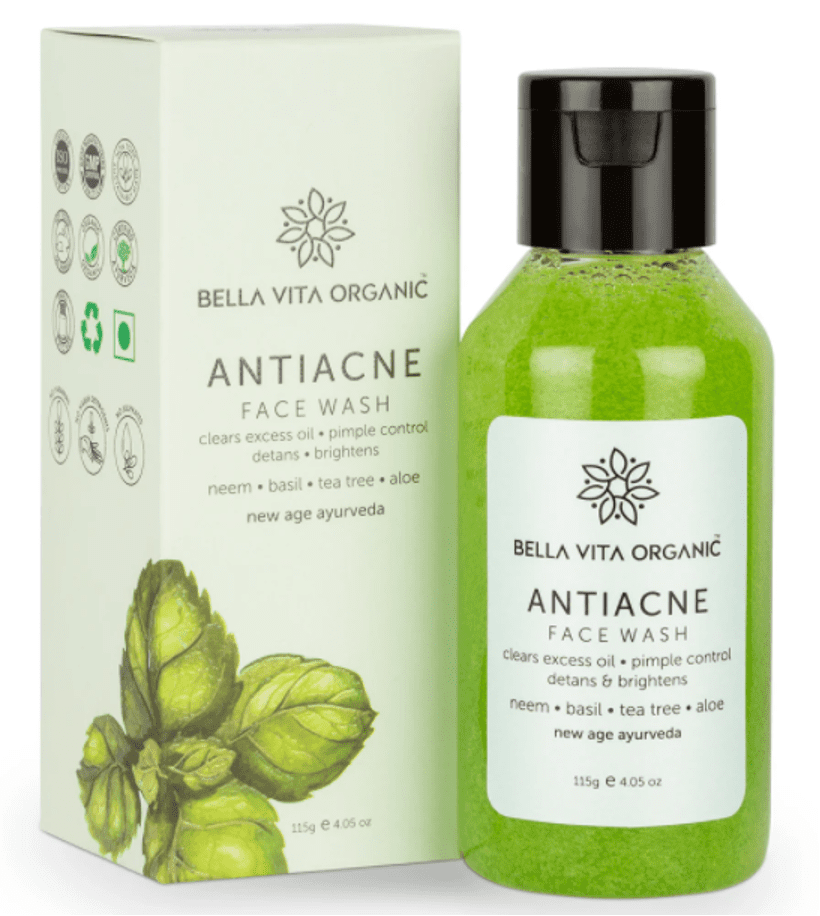 This organic face wash has the goodness of neem, basil, tea tree & aloe vera. All these ingredients are anti-bacterial and fight acne.
Ideal Face wash for Oily Skin
The face wash which includes natural oil-balancing agents such as aloe vera, lemon, tea tree oil, is the best for oily skin. These natural ingredients balance the excessive oil production. Avoid such products that have chemicals as chemicals will wash off the natural oils from your skin and leave it dry. Go for Ayurvedic products.
Best Face Wash for Dry Skin
A gentle face wash that has fatty acids is the best for dry skin. Never ever go for a face wash that has glycolic or salicylic acid, as these acids may dry out your skin more.
Face Wash for Combination Skin
If you have combination skin that is dry to normal, you can't use products for dry skin. Similarly, if you have oily to normal skin you can't use face wash which is for oily skin. So the trick is to use gentle soap-free and paraben-free face wash.
When to use a face wash or a cleanser, or both? And how?
As the face wash goes deeper into the skin and cleanses the dirt out of pores, it's ideal to be used in the morning. A cleanser serves the purpose of cleaning, hydrating and moisturizing and it can be used in the daytime.
How frequently should you wash your face?
Depending on the skin type you should decide the frequency of cleansing your skin, such as those who have oily skin, can wash their face twice, once in the morning and once before going to sleep.
The one who has dry or sensitive skin should limit the entire cleansing routine to once a day.
Apart from skin type, those who sweat a lot should clean their face twice a day, and the same applies to those who are indulged in some workout routine.
How to cleanse the face properly?
First, clean your hands thoroughly before washing your face.
Damp your face with water.
Take a small amount of cleanser and massage it well onto your face for a while.
You may or may not wash your face, depending on the type of cleanser. If it's soap-based, you should, if it's water-based, or a milk cleanser you can skip this step.
After cleansing your face with a cleanser, take a coin-sized amount of face wash on your palm, and rub it gently to create the lather.
Massage the foam gently in an upward circular motion.
Do massage your jawline, and neck as well.
Wash off your face, and pat dry with a clean towel.
Apply moisturiser to lock the moisture, this step is very crucial and shouldn't be skipped.
We hope our efforts of making you aware of the basic difference between face wash and cleanser work well. We will advise you to go for natural products and always consult a dermatologist if you have serious skin care problems.