Gold bangles for women aren't the first option for accessorizing. Ring and earrings are the first preference when it comes to accessorizing. Gold bangles for women are the most poised jewelry that they love adorning themselves in. The sweet tinkle of bangles emits a melodious sound that makes it the most loved jewel altogether. Bangles were worn by women for a couple of other reason besides looking pretty.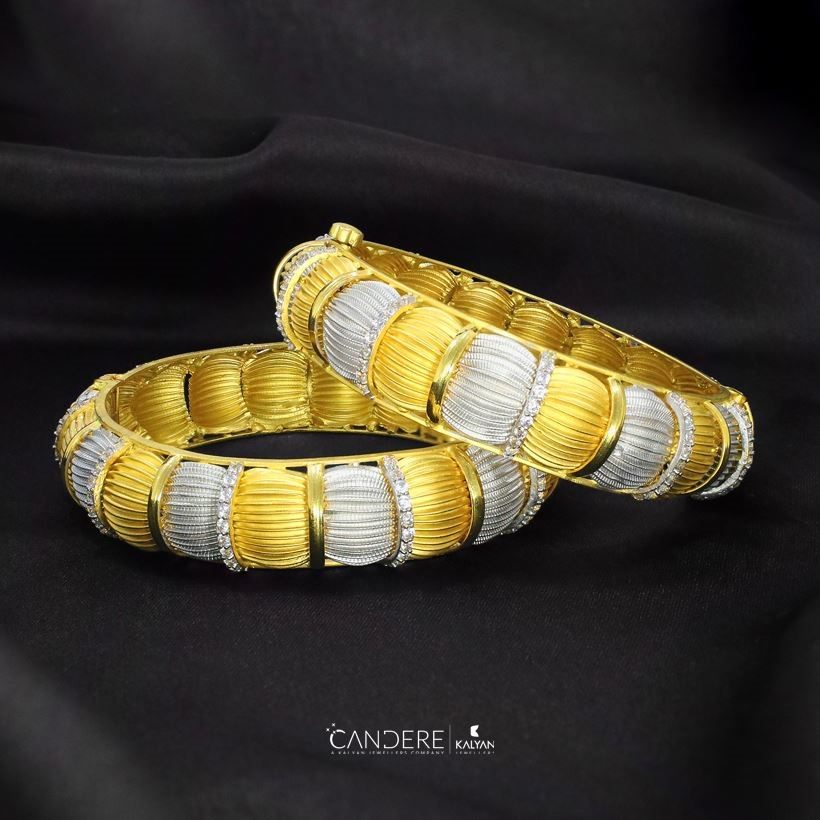 Women's wrists are considered to be thin; thus, bangles act as a wrist weight to protect them from any harm. It also acts as a shield to protect the wrists from any jerk, jolts or bruises. The sound of bangles is also said to calm down newborns by helping them locate their mothers and not feel lonely. It is also said that wrists have a pulse point. The constant friction caused by wearing bangles ensures there is an increase in blood circulation level.
Metal bangles are not much in fashion these days, whereas gold bangles for women has become everyone's favorite. The non-reactive nature of gold and its pleasant tone has made it a piece of everyday jewelry.
Daily wear gold bangles are usually lightweight and simple ones. These are mostly made in machines. For occasional wear bangles, handmade ones are preferred. Handmade ones are generally on the bulky side with intricate work. They start at a price slightly higher than regular machine made gold bangles but at a reasonably affordable price. If you have a habit of wearing heavy bangles, you can easily wear a handmade bangle daily too.
Women who wear bangles strictly on an occasional basis can go for stone bangles. As the name suggests, they are studded with stones (colorful or colorless). These bangles are quite a lively piece to add to your outfit if you are not a fan of the all-gold design. These colored stones can be anything from uncut diamonds to precious and semi-precious gemstones. Interestingly, these stones come in a variety of colors. So, make sure you go through all the options available to you.
Wearing bangles often become a hindrance for those women who go to work in a corporate sector where their dress code doesn't allow them to do so freely. Corporate dress codes are not at all flashy or eyeball grabbing. Thus, their accessorizing needs cannot be met by traditional bangles. Otherwise, conventional gold bangles make a beautiful accessory to go with Indian ethnic wear.
Since designs are evolving, the modern day bangles can be worn at the place of work. Minimalist design with a mix of gold hues makes them perfect workwear jewelry. You may not stack a couple of them together, but you can certainly wear a single fancy piece (cuff bracelet) on your wrist that adds a lot of style to your look.
If you are a diamond jewelry person, diamond bangles are your best friend at work. These sleek designs are minimally designed to make you look your sartorial best by adding the necessary shine to your outfit.