Your bridal lehenga is a quintessential element of your wedding ensemble, embodying tradition, elegance, and grace. As you prepare for your big day, it's essential to consider how to style this gorgeous attire to ensure you look and feel like a true princess. Beyond choosing the right lehenga, incorporating the perfect makeup is crucial. If you are planning a destination wedding in Udaipur, then finding a professional bridal makeup artist in Udaipur can significantly improve your overall bridal appearance. In this blog, we'll explore creative and innovative ways to style your bridal lehenga to achieve a captivating and memorable appearance on your wedding day.
1. Accessorize with Elegance
Accessories can transform your bridal lehenga into a captivating and regal ensemble. Opt for statement jewelry pieces that complement the color and design of your lehenga. Maang tikka, choker necklaces, jhoomar, bangles, and anklets can add a touch of elegance and complete your bridal look.
2. Experiment with Drapes and Dupattas
The way you drape your dupatta can significantly impact the overall look of your bridal lehenga. You can experiment with various draping styles, such as the classic front drape, Gujarati drape, or a contemporary cape-style drape. Each style offers a unique and stunning visual effect, enhancing the beauty of your lehenga.
3. Incorporate Contrasting Colors
Contrasting colors can add a vibrant and eye-catching element to your bridal look. Consider using a contrasting blouse or dupatta to create a striking effect. Ensure the contrasting elements harmonize well with the primary color of your lehenga for a cohesive and visually appealing ensemble.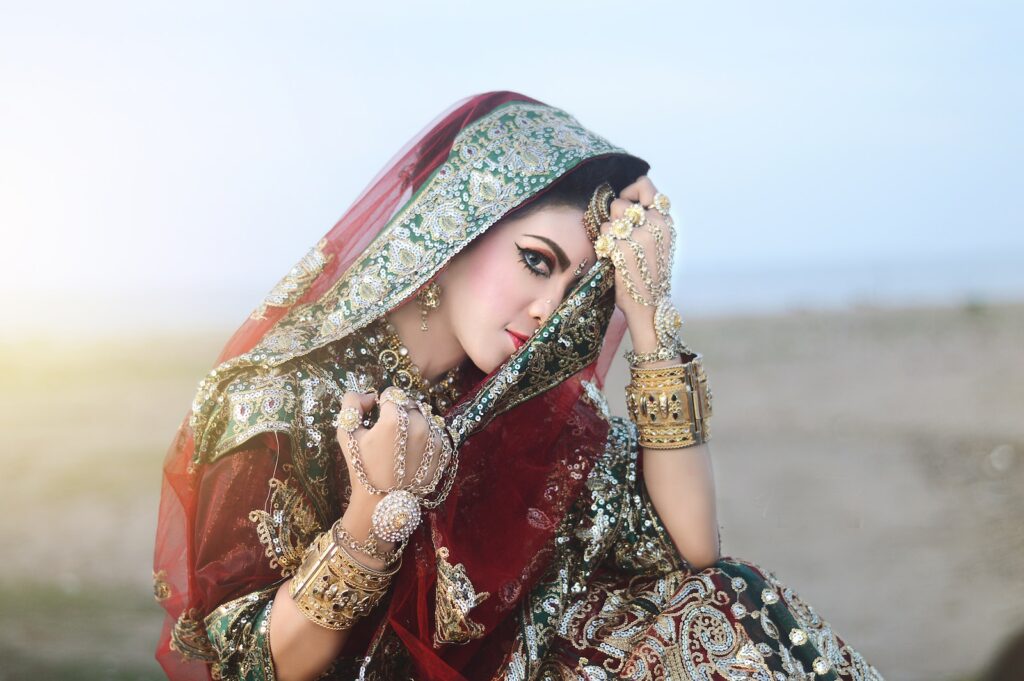 4. Play with Embroidery and Embellishments
The beauty of bridal lehengas often lies in their intricate embroidery and embellishments. Experiment with various embroidery styles, such as zari, thread work, sequins, or mirror work, to highlight specific areas of your lehenga. Opt for embellishments that complement your jewelry and add a touch of sparkle to your attire.
5. Customize Your Blouse Design
The blouse design can significantly impact the overall look of your bridal lehenga. Work closely with your designer to create a blouse that complements the intricacies of your lehenga's design. Consider unique necklines, sleeve patterns, and back designs that add a touch of modernity and sophistication to your ensemble.
6. Mix and Match
Experimenting with mixing and matching elements of your bridal ensemble can create a distinctive and personalized look. Pair a lehenga skirt from one set with a blouse and a dupatta from another to craft a custom bridal outfit that mirrors your style and personality.
7. Balance the Look with Footwear
Your choice of footwear can complete the bridal look and enhance your overall appearance. Opt for footwear that is not only comfortable but also complements the color and style of your bridal lehenga. Heels or embellished flats can add the perfect finishing touch.
In Conclusion
Styling your bridal lehenga involves a blend of creativity, personal preference, and cultural elements. By carefully selecting accessories, experimenting with drapes and colors, and incorporating unique embroidery and blouse designs, you can create a bridal look that is truly unforgettable.