Miss Aviator Suit is a combination of joggers style bottom and a bomber jacket. Joggers are quite trendy these days; these are not meant just for your jogging plan, these can be carried for a cool look on many occasions. The bomber jacket has three embroidered badges on the front side and one on its back which adds to the overall look of the bomber jacket. Also, the solid ankle length jogger has one badge on one of the legs.
Coming to the joggers; there are a variety of styles available in the market: plain solid joggers, embroidered joggers, lace-up joggers, ribbed joggers are a few among them. You can carry them as per the occasion. For instance, I have carried this embroidered jogger on my way to beautiful Himachal as I feel so comfortable in joggers while travelling.
Everything looks classy and perfect if it is carried at the right time and the right place.
Here is the complete look which you can carry while heading to a road trip.
You don't need to put a lot of makeup for this look. Trust me, you will be comfier if you carry less makeup while travelling either on a bike or in the car. A shade of pink on the lips (Coloressence Long Wear Lip Color) is the blue coloured dress's best friend; and since my aviator suit is of dark blue colour, I decided to put pink lip shade without giving a second thought. And a 'MAC Fix It' is a must to give your face a fine finishing. Plus it also helps in hiding your acnes if you have any.
While travelling, you should wear your most comfortable shoes. I decided to club this dress with my cute white flat sneakers. You can even carry white Platform shoes or canvas shoes. And finally, wear black sunglasses to SWAG IT UP!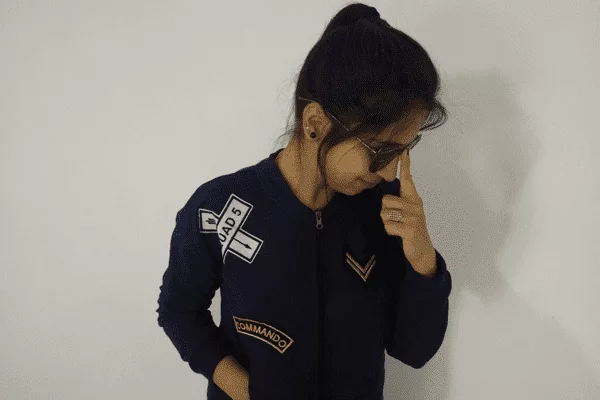 I hope you like this look; spare a minute to share your comments below.
Please follow me on:
Instagram: https://www.instagram.com/purnimamadaan/
Pinterest: https://in.pinterest.com/pmaddan/
Facebook: https://www.facebook.com/ootdiva/