Summer is a time for barbeques and family fun. Did you know that you can also throw a killer barbeque at home? It's not as hard as you may think.
Barbequing is the act, and probably an art, of grilling or roasting meat, fish, vegetables, and other foods by exposing them to direct flame from a fire or hot coals. Barbequing has become more popular in recent years with the increased availability of electric barbecues, gas barbecues, and charcoal barbecues that make it easier for people to do it at home.
It is also easy to do on an open fire or on an improvised grill made from bricks or stones found in the ground. However, since we are talking about homes, we will stick to smaller bbq setups and machines.
Step 1: Choose Your Grill
There are many different types of grills available on the market today, so it can be hard to decide which one to buy. If you're just starting out, a charcoal grill or smoker may be the best option for you. These grills are easy to use and don't require much maintenance. If you're looking for an upgrade, a gas grill is a great choice. They're more expensive than charcoal or smoker grills, but they offer many benefits, such as being easier to clean and faster to heat up. Nowadays, electric barbecue machines have also gained popularity since they are even easier to set up and clean.
Since we love to barbeque at home, we have a charcoal as well as an electric barbeque, and both have their own pros and cons. When the party demands more traditional and more earthy and burnt flavors, we fire up our charcoal bbq grill. However, when we have kids over, we like to skip the hassle of controlling temperature and smoke and whatnot and take out our electric bbq machine.
Why We Love The Charcoal Barbeque Grill?
There are many reasons why we love the charcoal barbeque machine. For one, it's easy to use. All you have to do is load the charcoal and wood pellets, set the temperature and time, and you're ready to cook. Plus, it's simple to clean up – all you need is a hose and some soap. And if you're hosting a barbecue party, this is the perfect tool for cooking up some delicious food, and it looks authentic!
Why We Hate The Charcoal Barbeque Grill?
We hate the charcoal barbeque at home because it's so hard to control. It involves a lot of flipping and turning, making it difficult to cook the food evenly. Plus, the wood chips are always getting all over everything, making for a messy meal. Did I mention the smoke? If you do not have an open space, a charcoal barbeque is going to suffocate everyone in the room.
Why We Love The Electric Barbeque Machine?
There's something about the electric barbeque machine that just makes us happy. Maybe it's the convenience of not having to light a grill or wait for the coals to heat up. Maybe it's the fact that you can cook your food without having to worry about flare-ups or messy spills. Whatever the reason, we love our electric barbeque machines!
Why We Hate The Electric Barbeque Machine?
There are a few reasons why many people hate electric barbeques. First, they can be quite expensive to buy or rent. Second, they can be difficult to use – especially if you don't have any prior barbecue experience. Third, they often produce inconsistent results – meaning that the barbecue may be great one day but terrible the next (if you are inexperienced). Finally, electric barbeques often require regular maintenance and cleaning, which can become a hassle if you don't have the time or inclination to do it.
How To Choose The Perfect Machine For Barbeque At Home?
1. Consider your budget
When planning your barbecue machine or grill, it's important to keep in mind your budget. You don't need to spend a fortune on supplies or equipment to have a great time. In fact, many of the items you'll need can be found at your local hardware or grocery store, or on Amazon. Remember, start small – you can never be too sure about what you eventually need if you are a first-timer.
2. Consider your needs for the barbeque
If you're looking to throw a killer barbeque at home, there are a few things you'll need to keep in mind. First and foremost, you'll need the proper tools and ingredients. You'll also need to consider the size of your grill and the number of people you're cooking for. Finally, make sure to have plenty of drinks and sides on hand!
3. Consider your cooking style
Do you prefer slow and low with charcoal or do you like to crank up the heat with electricity? Do you have a lot of space to cook or are you limited? Once you've figured out your preferences, it's time to pick a grill or smoker.
4. Consider your space for the Barbeque Party
When hosting a barbeque party, it is important to consider the space that you have available. If you are hosting at home, you will likely have more space to work with than if you are hosting at a park or other public space. However, if you are limited in space, be sure to plan your party accordingly. Consider setting up a small kitchen area adjacent to the grill so that guests can cook their own food and drink. Alternatively, set up a buffet table with various meats and sides nearby for guests to grab and go. Either way, make sure that your party is fun and easy for everyone!
Let's Order Your First BBQ Machine!
Now that you know everything that is there to know about BBQ machines for home, let's pick one that will be perfect for you. If you are buying a charcoal-fired machine, I would recommend sourcing it locally. Because it will be cheaper than buying one from Amazon. However, if you are a busy person like me, or looking at an electric grill for BBQ, you would be better off buying one from Amazon. Let me help you narrow down your search. Check out the recommendations below.
H Hy-tec (Device) HYBB – Traveler Foldable Charcoal Barbeque Grill
All Hy-tec barbecues are built to the highest standard and come with a superior powder-coated finish, meaning that your barbecue will last for years. The weight of the traveler barbecue is 4.5kg. With endless possibilities, you can grill any type of food with these barbecues and accessories. The offset smoker seamlessly attaches to the grill, ensuring the good circulation of heat and smoke.
Suitable for small gatherings.
Why do people love it?
Compact design
Travel friendly
Comes with skewers for barbeque at home
Why do people hate it?
Very small in size
Does not feel very durable
H Hy-tec (Device) HYBB – Smokey Charcoal Grill Barbeque (Recommended)
The Hy-tec barbeque is a favorite among barbecuers for its superior powder-coated finish. The traditional design is an eye-catcher and the machine has a thick grill, square skewers to hold meat and vegetables firmly, and detachable legs. All this makes this device a killer barbecue machine!
Suitable for large gatherings.
Why do people love it?
Superior powder-coated finish
Thick grill
Detachable legs
Square skewers
Heat controlling mechanism
Why do people hate it?
Larger than average size. Not suitable for small gatherings or apartments.
The handle on the lid is oddly placed.
Prestige PPBW 04 Portable Barbeque
This product comes with detachable legs that can be assembled at any place easily. This allows the user of the product to assemble this barbecue set for any occasion with ease. The cooking and grilling of this equipment are provided by the burning coal at the base of the grill. The heat of the burning coal helps cook and grill food over grilled mesh quickly and efficiently.
Suitable for small and medium-sized gatherings.
Why do people love it?
Very handy
Easy to assemble, handle and store
High-quality product at an affordable price
Why do people hate it?
Some sharp edges here and there
TrustBasket Portable Barbeque Bucket Set
This BBQ bucket is made of stainless steel and has a heat-resistant and rustproof design. It can serve you during several barbeque at home parties, and it's portable so you can take it anywhere. It's also lightweight so you can carry it easily. This bucket is perfect for camping, mountain climbing, picnics, tail parties, camping in trailers or parks, and grills in small spaces.
Why do people love it?
Very compact design – suitable for tiny spaces
Travel and hiking friendly
Affordable
Why do people hate it?
Not intended for rough and long time usage
Needs patience as the heating mechanism is not very efficient
AGARO 1600 Watt Barbeque Non-Stick Electric Griller (Recommended)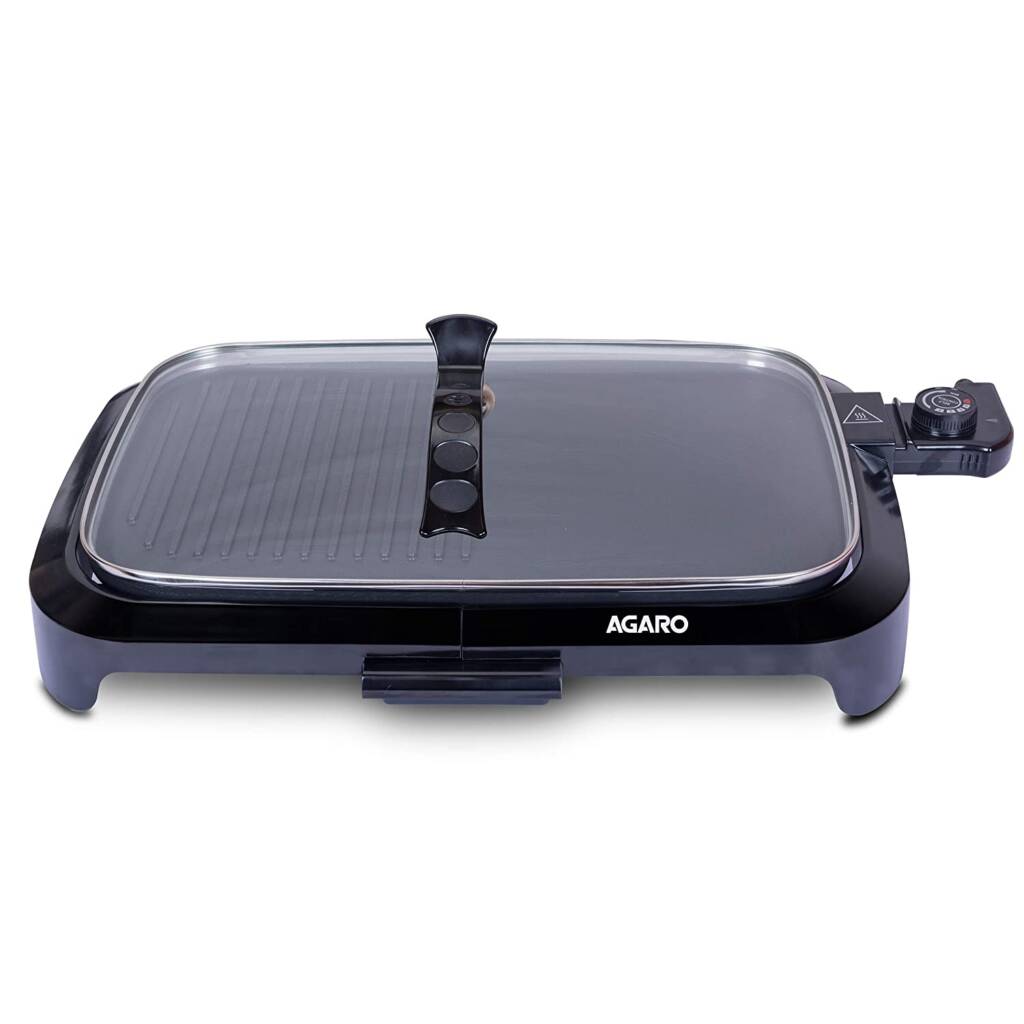 The long-lasting toughened glass lid allows you to monitor the food that is being cooked, while the non-stick grill plates prevent the food from sticking to the surface and make it easy to clean. The griller also comes with variable temperature control so that you can cook your food exactly how you want it. The oil drip tray collects the extra oil which drips from the food, making it easy to maintain.
Suitable for gatherings of all sizes.
Why do people love it?
Easy to clean and maintain
Does not require charcoal to fire up – electric
Easy to handle and operate
Why do people hate it?
Not traditional, and hence not so romantic.
GHIME Electric Barbecue Grill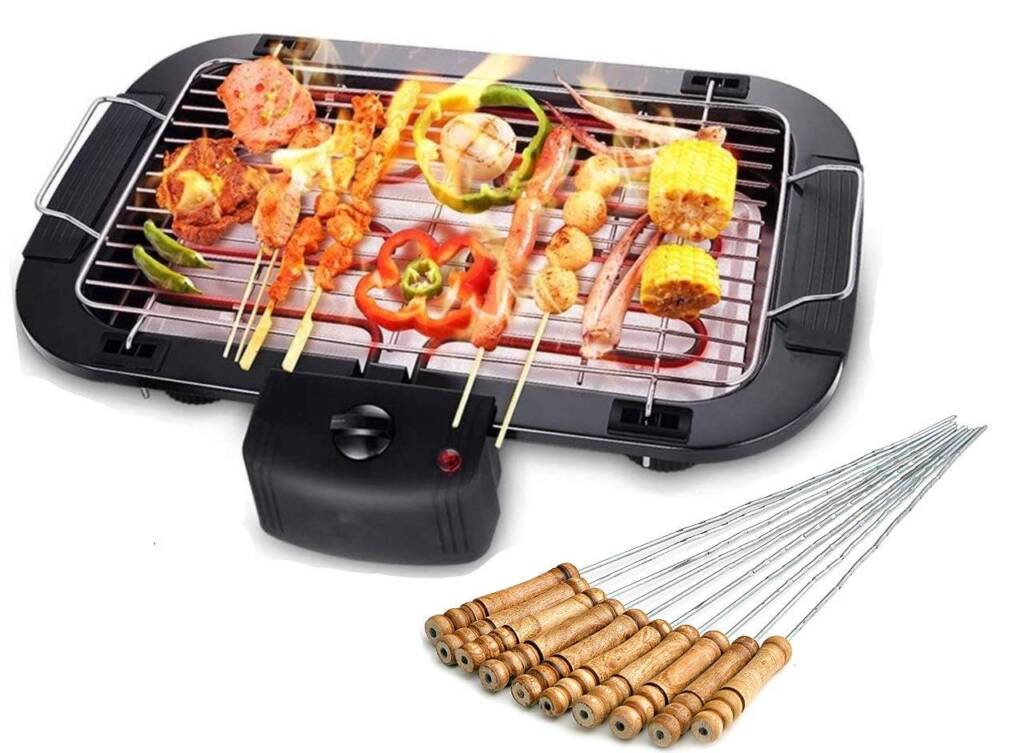 The electric barbeque grill is perfect for cooking chicken, beef, prawns, fish, and vegetables. It has an adjustable knob for changing the temperature from a range of low to high which can be adjusted to your required temperature for different kinds of food. The parts of the grill can easily be detached once the cooking operation is done for easy cleaning.
Suitable for small gatherings.
Why do people love it?
Compact and efficient design
Easy to clean and maintain
Gives the food a smoky aroma
Why do people hate it?
Operating it can be a tedious and boring task
Not traditional, and definitely not fun enough to call it a bbq party
Step 2: Source Your Meat and Vegetables for the Barbeque
If you're looking to throw a killer barbeque at home, you'll need to source your meat and vegetables from a local farmer's market or store. Try to find organic and/or grass-fed options when possible, as these varieties of meat and vegetables are typically higher in nutrients and antioxidants.
What Are Some Common Food Items for Barbeque at Home?
1. Ribs
2. Chicken
3. Burgers
4. Hot Dogs
5. Sausages
6. Vegetables
7. Fruit
What Kind Of Fruits to Pick for Barbeque?
When throwing a killer barbeque at home, it's important to choose the right fruits to cook on the grill. For the most part, any fruit can be grilled to perfection, but some are better suited for this than others. Here are a few tips for picking the perfect fruits for your barbecue:
Apples: Apples are a classic barbecue fruit and they're great all on their own or as part of a mixed grill. Just make sure to cut them into thin slices so they cook quickly and evenly.
Pears: Pears are another good option for grilling because they hold their shape when cooked over an open flame. Just be sure to quarter them before cooking so they don't turn into a mushy mess.
Peaches: Peaches are a great choice for a barbecue because they're sweet and juicy. Just be sure to skewer them first before grilling so they don't fall off the grill.
Berries: Try to choose berries that are in season, like raspberries or blueberries.
When choosing fruits for your barbecue, it's important to consider their nutrient and antioxidant content. Fruits that are high in nutrients and antioxidants are typically healthier choices, so picking ones that will add flavor and nutrition to your barbecue is a great idea.
What Kind of Vegetables to Pick for Barbeque at Home?
There's no one-size-fits-all answer to this question, as the type of vegetables you choose will depend on your taste and what you have available. However, some good options for grilled vegetables include:
Red Potatoes
Yellow Potatoes
Green beans
Zucchini
Carrots
Corn on the Cob
Tomatoes
Beets
Mushrooms
Onions
Red/Yellow Bell Peppers
Which Meat Is Best For Barbeque Party at Home?
When hosting a barbecue party at home, it is important to choose the right meat. There are many different types of meats that can be used for barbecue, but the most popular choices are pork and chicken.
Pork is the most common type of meat used for a barbecue because it has a sweet and smoky flavor that is perfect for grilling.
Chicken can also be used for barbecue, but it is not as popular because its flavor is not as strong.
The best way to determine which meat is best for your barbecue party at home is to experiment with different types and flavors.
Step 3: Make the Barbecue Sauce
To make the barbeque at home sauce, combine the ketchup, brown sugar, vinegar, Worcestershire sauce, and salt in a medium bowl. whisk until the ingredients are combined. These ingredients are typically healthier choices, so picking ones that will add flavor and nutrition to your barbecue is a great idea.
The barbecue sauce is important for flavor and moisture in the meat. It can be made ahead of time and stored in a sealed container in the fridge for up to two days.
Or you can buy ready-made barbeque sauces available in grocery stores or online, on Amazon. Below are a few BBQ sauces that we have tried, loved, and bought from Amazon.
Habanero Smokey, Tangy, and Spicy Gluten-Free Vegan Spicy BBQ Sauce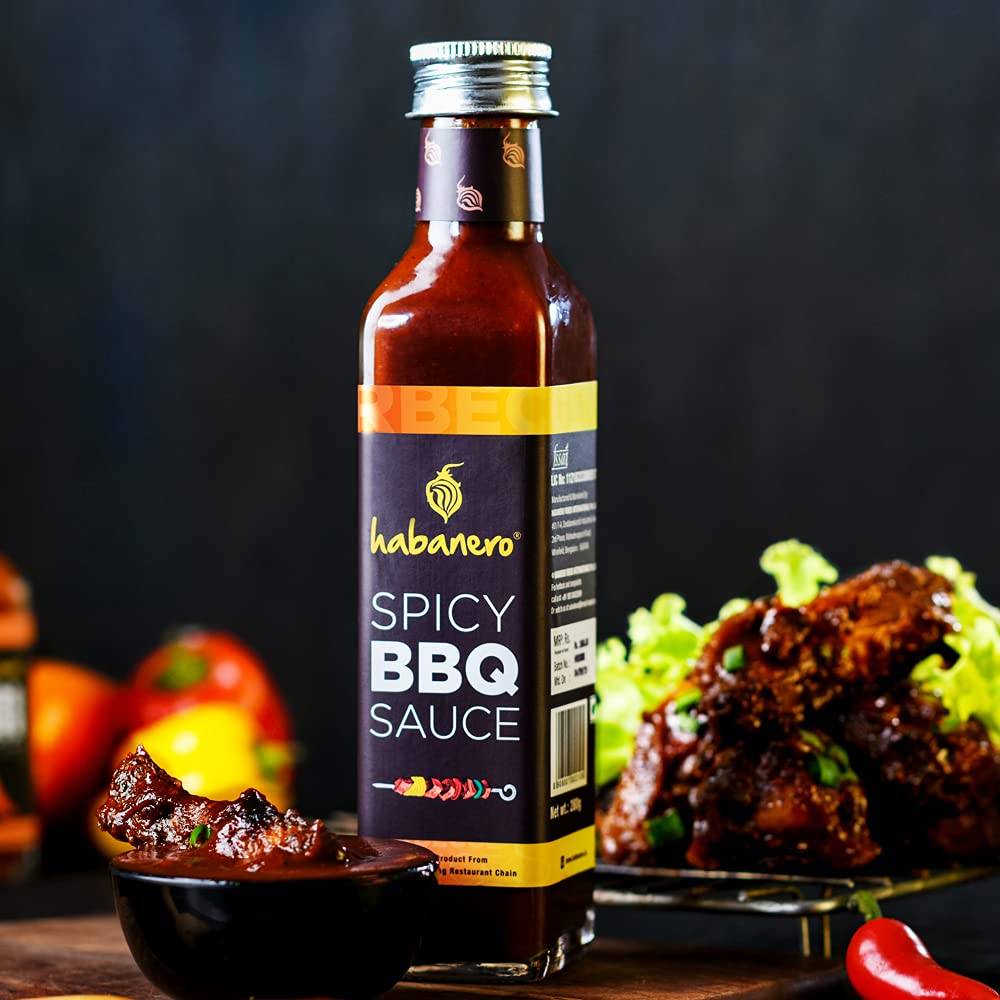 This vegan barbecue sauce is made with a Habanero pepper, onion, garlic, and tomato base. It is tangy and spicy with a smokey flavor from the habanero. It is gluten-free and can be used as a dipping sauce or as a marinade for your favorite vegan protein.
Main ingredients: Jaggery, Tomatoes, Tamarind, Pepper, and other spices sourced locally in India.
MasterChow Tokyo Drift Black Bean, Chilli & Garlic Stir Fry Cooking Sauce
This sauce is versatile and can be used with a variety of dishes. It has a signature ingredient, fermented black beans, which give it a unique flavor. Tokyo Drift is a mouthwatering pairing of black bean, garlic, and chili that is rich, savory, spicy, and aromatic.
Main ingredients: Black Bean, Soya, Cooking Wine, Vinegar, Sesame Oil, Garlic and Chilli
NAAGIN Indian Hot Sauce – The Original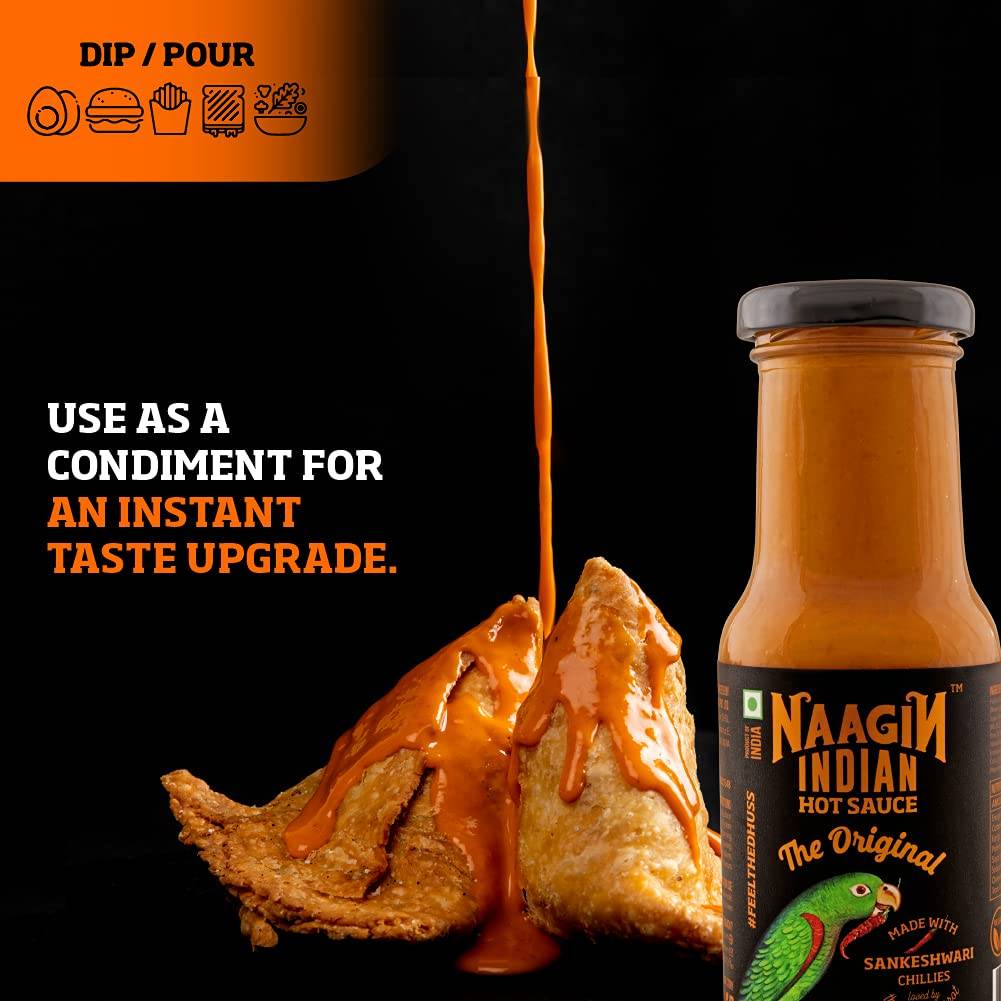 Naagin Indian Hot Sauce is one of the most popular hot sauces in India. The sauce is made from a variety of peppers, onions, and other spices. Naagin Indian Hot Sauce is often used as a condiment or dipping sauce for various foods. Although not the original bbq sauce, it's perfect for barbeque at home.
The Original hot sauce is a blend of medium and spicy flavors from Western India. It has a full body and minds uplifting taste, thanks to the combination of tomatoes, onions, and garlic with Sankeshwari and Bhavnagri chilies.
Main ingredients: Tomatoes, Onions, Garlic, Sankeshwari, and Bhavnagri chilies
Jack Daniels Barbecue Sauce – Full Flavour Smokey
This Jack Daniels Barbecue Sauce is a full-flavor smokey sauce that is perfect for barbecuing. It has a robust and smoky taste that will add an extra layer of flavor to your barbecue dishes.
The sauce is made from a blend of spices including black pepper, cumin, paprika, and chili powder. It also contains molasses and Jack Daniels whiskey to give it a delicious smoky flavor.
Main ingredients: Black Pepper, Cumin, Paprika, Chili Powder, Molasses, and Jack Daniels Whiskey
Step 4 (Optional): How to Choose The Right Coal for BBQ
When it comes to barbecuing, the type of coal you use can make all the difference. Here are a few tips to help you choose the right coal for your barbecue:
Charcoal is best suited for grilling and smoking, as it produces a moderate heat that doesn't overpower food. Make sure to choose charcoal with high ash content, as this will ensure that your food cooks evenly and doesn't stick to the grill.
Lump charcoal is best for use on a gas grill, as it produces very high heat that quickly cooks food. Make sure to get charcoal with low ash content, as this will help to prevent flare-ups.
Briquettes are a great option for people who don't have access to a grill or who want to cook large quantities of food. Simply place the briquettes on the grill, and they will quickly produce heat that cooks food evenly.
While it's good to know all these different options exist, I would recommend you to not look anywhere and get yourself some lump briquettes. Why? Because:
It is inexpensive.
It is almost smokeless and odorless
Comparatively eco-friendlier
Easy to ignite and start a barbeque at home
Spark free
While I source my briquettes locally, you can also order some online on Amazon.
FREGRILL Charcoal Briquettes for Barbecue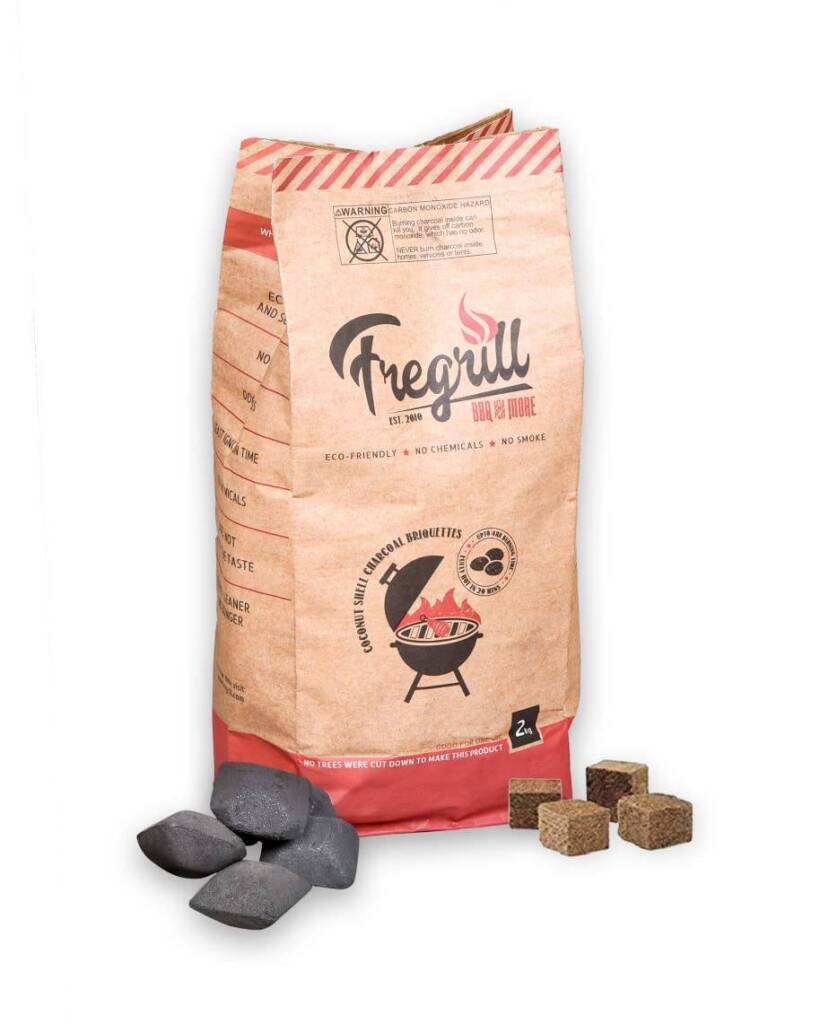 The long burning time, high heat, and less ignition time make this product ideal for Barbeque cooking, grilling, and tandoor. The no smoke, no odor, and no chemicals make it easy to use. The product also includes 100% natural fire starter cubes with a product video instruction manual. Proudly made in India
VESP ENERGY Charcoal Briquettes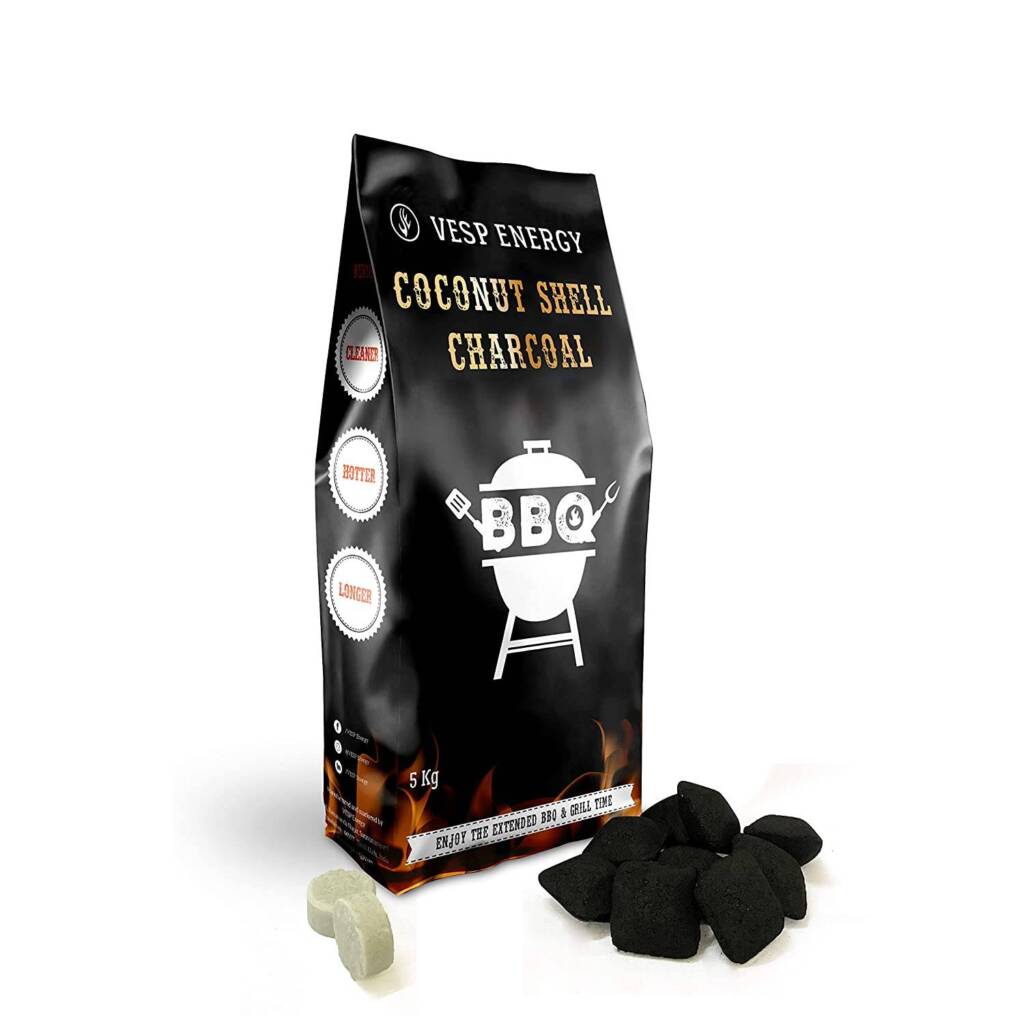 VESP Energy is a long-burning, high thermal efficiency fuel that is safe to use and easy to light. It doesn't spark and has low moisture levels, making it environmentally friendly.
Step 5: Learn to Cook From the Experts
Now that you have everything you need to fire up the barbeque and serve them hot and crispy fruit and meat, it's time to learn some BBQ recipes before you invite the guests.
Here are some amazing barbeque at home recipes that we have tried over time. These are beginner-friendly, and the raw material is easy to source from Amazon or your local grocery store.
Barbecue Chicken | HowToBBQRight
To cook barbecue chicken, all you need is a grill or smoker set up for indirect cooking and enough chicken to cover the surface. You can season the chicken however you like before grilling or smoking it.
3 Easy Barbecue Marinade Recipes | Food n Flowers
These three easy barbecue marinades will make your barbecue nights the best! I have made vegetarian barbecues with each of these three best-vegetarian barbecue marinades.
Tandoori Aloo Recipe | Your Food Lab
I have been following this channel for a while now, and this is my favorite veg bbq recipe ever.
Barbecue Chicken Wings | Nick DiGiovanni
This recipe will give you the best barbecue wings you've ever tasted. They're crispy, tangy, sweet, and buttery.
BBQ Recipes You Can Serve All Year Long | Tasty
I would recommend subscribing to them, not just for some amazing bbq recipes, but for every recipe that they have on their channel. In the video below are recipes that run all year round.
Conclusion
If you're looking for a fun, easy, and affordable way to celebrate summer, a home-cooked barbeque is a perfect option. Not only is it a great way to get your family together, but it's also a fantastic way to show off your cooking skills. Whether you're cooking for one or dozens of people, throwing a killer barbeque at home is sure to be a hit.