The problem with dry hair is that it does not stop there. People with dry hair would understand how unforgiving the situation becomes if one forgets to moisturize the hair for a day or two. I have been facing similar trouble with my hair since my early 20s. The breakage, split ends, tears of sadness – you name it, my sad hair story has it. I tried a few products back in the day, but my sensitive scalp does not like chemically mastered shampoos or conditioners. This forced me to make a switch to a more natural hair care routine – eggs, mayo, coconut oil, and a combination of 10 other things over the weekend. Stressful!
This is where my search for the best hair oil for women began. I was inclined towards nature for two reasons:
Chemicals aren't good in any form.
Nature has a remedy, and I know it. I just need to find the true product.
Of course, Ayurveda had the solution, and I just needed to find the right combination. While researching, I read a few blogs that mentioned the herbs that help hair growth and worked like an anti-dandruff shampoo. I began my journey with some big names in Ayurveda. They worked to an extent. But there was an absence of a product that could be referred to as a complete solution. Also, over time, I realized that my needs were very complicated. I wasn't just looking for the best hair growth oil; I also needed a product that would act like an ayurvedic shampoo for dry hair.
Gladly, it did not take me long to find Kesh King. These were the products that fulfilled all my aspirations regarding hair care. The products had a proven formula – a combination of 21 herbs; they were derived from the works of literature of Ayurveda, and did not contain any chemicals. I researched a bit more and found out that Kesh King was consistently recommended over its competitor brands by netizens in several forums. I ordered a combo of Kesh King oil and shampoo, praying that they turn out as good as the reviews.
My Review of Kesh King
I used different Kesh King products for a couple of weeks before writing this review. I was regularly using Kesh King oil and used Kesh King shampoo and conditioner twice a week. The first couple of days were not as promising as I had hoped. I would be dishonest if I disagreed that the first two days demotivated me. However, from the third day, I was able to feel a certain softness in my hair all of a sudden. I guess it is because the oil nourishes the hair from the root level. So, a day or two working on the roots and scalp – not a bad deal. After that, I created a hair care routine around Kesh King products and used them excitedly for the next two weeks.
After a week, I noticed that not only hair fall had reduced, the volume of the hair had improved too. Did I find the best oil for hair loss and regrowth, or what? The texture of the hair had also improved. I would also like to mention the easy comb applicator that doubles up as the cap of the oil bottle.
Two weeks down, I noticed that my hair did not lose luster even if I skipped or forgot my routine. I did not find any side-effect or anything funny with my scalp – which is another reason I recommend using ayurvedic products.
The shampoo and conditioner combo contributed to improving the health of the hair and scalp. The Aloe Vera in the shampoo makes it soothing and refreshing. This combo has replaced my previous medicated anti-dandruff shampoo.
My Hair Care Routine
Like any other hair oiling routine, apply Kesh King hair oil before bed and leave it overnight. I used my hands to gently massage the scalp to ensure that the oil reached the roots for the first couple of times. Later, I switched to the deep root comb applicator that comes along with the oil. You can use the applicator right from the first time. It wades through the hair and reaches the scalp without a problem.
The next morning, wash off the oil using Kesh King shampoo. The shampoo, like oil, consists of many ayurvedic herbs that contribute to the health of the hair strands. The shampoo is easy to apply and does not smell weird, like the usual medicated shampoo for hair fall.
The experts available on their free consultation number recommend using the oil and shampoo combo thrice a week. By the way, Kesh King customers have access to free hair care consultation at 1800 103 5155.
For me, the results were visible right after the first week. However, depending upon the condition of your hair and lifestyle, Kesh King recommends at least three weeks of usage.
Do I Recommend Kesh King?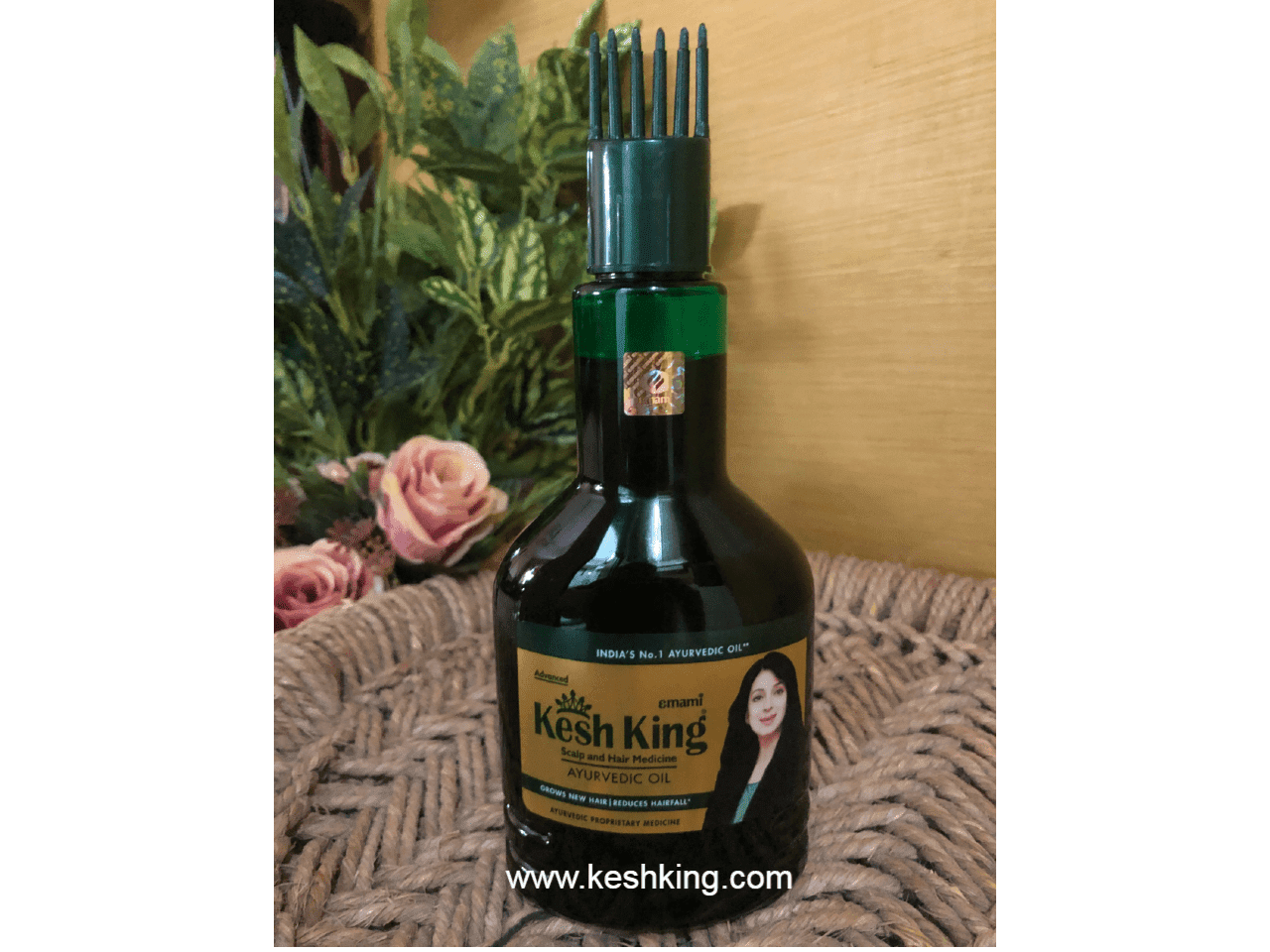 Absolutely, I do!
Kesh King makes terrific products that deliver what they promise. Hardly do we come across a product that is as good as it sounds. However, for the results to appear, you will have to be disciplined with your hair care routine. You can either follow the routine that I mentioned above or check out the website to create a customized hair care routine.
Kesh King is available in physical stores, on popular eCommerce platforms, and the official website, here.