Urban Gabru Charcoal Peel Off Mask
Effectiveness

Application

Price
First of all
Peel off masks are basically just wax strips for the face. If you want quick, chaos-free beauty solutions, you should definitely try this peel off mask. It helps in skin nourishment and leaves the skin glowing, removing all the dirt and skin pores.
It gives you a natural matte and subtle complexion.
Helps in clean purification.
It contains powerful charcoal that can easily remove dirt and excess oil and prevents blackheads.
It nourishes the skin and lightens the skin.
Also, it gives the skin an energetic glow.
Ideal For
Blemishes, facial skin aging, fine lines
Blackheads/ nose pores
Oily skin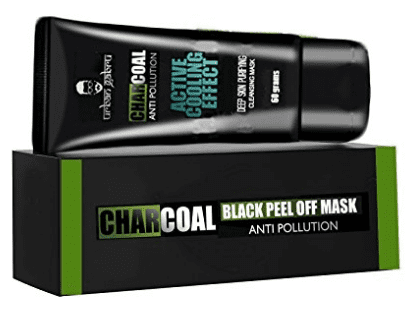 Usage
Apply enough amount of mask on your face, make sure you apply thin layer which will cause convenience while peeling it off. Make sure to keep the mask from your eyebrows, under eye and mouth area.
Once the mask gets dry, peel it off slowly. Don't rub the skin while trying to peel the pack. Once it gets completely dry, it will come off easily.
Before you apply the Urban Gabru Charcoal Peel Off Mask, make sure that you are not prone to any kind of allergy or skin irritations. Apply a bit of it behind your ear and if there is no discomfort or reaction, you can continue using it.
Pros
Removes dead skin cells like a pro, banishes all the dead skin and facial hair which otherwise gets difficult to deal/ cure.
Makes your skin look young and fresh.
Gently removes baby facial hair. The anti-inflammatory properties help in removing baby hair, dirt, and whiteheads.
Provides the needed nourishment and hydration to the skin- has a cool and soothing effect on your skin.
Cons
You might get pimples or rashes after you remove the mask.
The packing of the product is of poor quality. The tube gets squeezed and the paste sticks to the end side of the tube which in a way reduces its usefulness.
It definitely removes the baby facial hair but not always the blackheads.
The main purpose of the mask is to remove blackheads and leave the skin smooth and glowing. The mask dugs deep down in your pores to clear out impurities.
However, with its attractive benefits, keep in mind the harm it can cause to your skin if used regularly.
That being said, even if just once, the experience is worth trying.