It's one of the most romantic times of the year, so it only makes sense to celebrate it by buying gifts from one of the most romantic brands on the planet—Gucci. For decades now, this fashion brand has reigned supreme. After all, the language of love is universal. And with the following five items featured on The RealReal, it's easy to see why that iconic logo makes everyone go starry-eyed.
Beautiful Bamboo Driving Shoes
Available in a size 38, these luscious loafers are the perfect example of classic Gucci style. With bamboo buckle accents, they call to mind a kinder, gentler and more romantic time. Of course, the horse bit buckles will remind everyone around that you possess exquisite taste.
The Perfect Pair of Aviators
If there's an accessory that this Italian glamour team has made famous, it's gorgeous glasses. These aviators boast a classic silhouette; it's a look that's bound to stay in fashion forever. The acetate frames and gold insignias make them the perfect accouterment on any romantic trip. Whether you're in Santa Barbara or across the Atlantic in San Marino, these cosmopolitan shades are truly stunning.
Dionysus Python Mini Bag
If you look up the antonym of "unique" in the dictionary, you're bound to find Gucci—and this perfect python bag is an excellent example of why. The chain-link strap and hot hardware are bound to make anyone who is wearing it the center of attention. Even the inside of the bag is made of glorious suede, and the tiger embellishment on the outside is sure to put a smile on anyone's face. The perfect bag for memorable nights out on the town, this amazing accessory will put a special spark in Valentine's Day—and any other night that is destined to become something dazzling.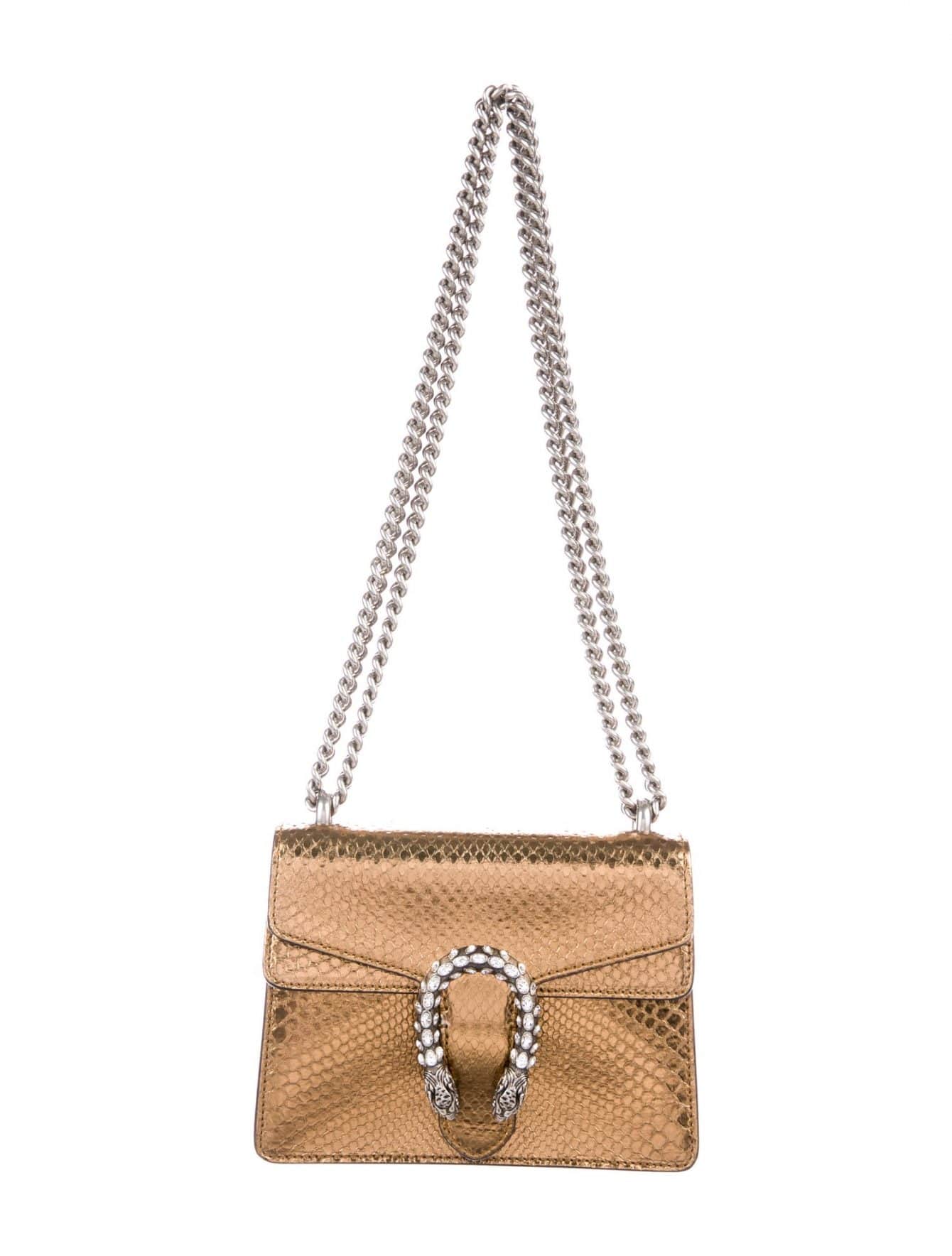 The G-Series Watch
When you want to look like you spent a whole lot more money than you actually did, this G-Series watch is the perfect gift. Its elegant appearance is bound to attract many compliments. And in an age where people often go without timepieces on their arms, you will definitely stand out in a crowd. The black dial and leather strap let people know that you're sleek and sophisticated—and the price tag doesn't even remotely resemble what it would if you were to buy it on Rodeo Drive. From the smooth bezel to the impressive buckle, everything about this watch screams luxury—except for the price. The RealReal has a watch specialist on staff, so buyers can always be certain that they're receiving a working watch of the highest quality.
Pink Logo Sweater with Tags
When it's time to celebrate the season of love, there's no better hue than pink to light up some passion. The embellishments and logo graphic makes this sweater even more sensational. Available in a size Extra Small, this sweet sweater is still new enough that it even has its tags on. So for those who weren't able to nab one off the rack in the spring of 2018, the fact that the sweater is now available—and at such an attractive price—is bound to put anyone in the mood for love.