Officially a Special Administrative Region of China, Macau is often viewed by travelers as something of a region unto itself. It also happens to be one of the world's most densely populated tourist areas. But don't let that deter you from a visit! This is a fascinating destination that blends Portuguese and Chinese culture and heritage, and which has also evolved into a casino resort hub to rival Las Vegas. There's no place quite like it, which is why we wanted to take a look at some of the things you simply have to do if you ever get the chance to visit.
1. Enjoy Macau's Cuisine
Macau is a melting pot of cultures, and this has led to what a piece at BBC.com aptly labeled "rare fusion cuisine." The dishes use both local ingredients (remember that fishing culture we alluded to?) and those that were brought centuries ago by the Portuguese. Add in Chinese cooking techniques, and you have one of the most unique and underrated culinary blends in the world. We recommend trying the Capela –– a sort of local, pork-based meatloaf –– in particular.
2. Enjoy The House of Dancing Water
View this post on Instagram
Credit: tinattwang
Getting back to resort attractions, Macau's cultural connection to water is crystallized beautifully in The House of Dancing Water. This water show-slash-stunt event is an eclectic take on the story of a fisherman who ends up finding mythical creatures and fighting pirates. It may sound a bit unusual, but visitors love it, and it's about as captivating as any live theater or circus performance you've ever seen.
3. Pray at the A-Ma Temple
As mentioned above, the Macau region is steeped in fascinating culture and history as well. Fishing culture in particular is inherent to Macau, so it shouldn't come as a surprise that the area's most important temple is dedicated to A-Ma, a deity that protects people who work at sea. The Taoist temple is an excellent example of religious Chinese architecture, and according to WH.mo is designated as a UNESCO World Heritage Site.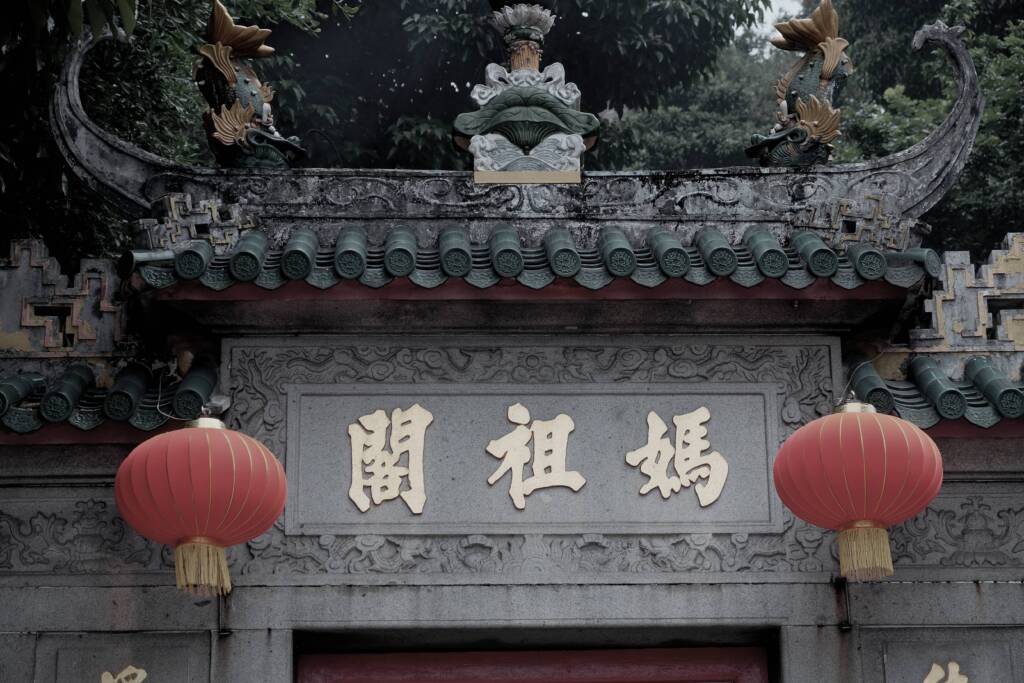 4. Relax at Senado Square
Macau's architecture is elegant and colorful. This is best appreciated when you visit Senado Square, which is usually filled with beautiful floral arrangements and which contains a mosaic floor that might remind you of Ipanema beach. Despite being a bit crowded sometimes, it's considered a place where people can go to stretch their legs, take in the sights, and relax for a little bit.
5. Play Games at a Major Casino
The casino experience in Macau is like no other. At resort venues like the City of Dreams in Cotai, there is a whole world of shopping and restaurants to explore, but the casinos are truly the class of the world. They often offer 24-hour service, a variety of poker games including Texas Hold'em and pot-limit Omaha, and plenty of video poker machines for those who prefer to play a bit more privately. You simply won't find many nicer places to play the world's most famous casino card game.
6. Visit the Gaming Floor at The Venetian
Sticking with gaming, The Venetian Macau is also a must-visit. This venue is a spectacle unto itself, with more than 800 gaming tables and nearly 3,400 slot machines spread across four different gaming areas. As you traverse the whole casino, you'll also find a number of replicas of areas and landmarks from Venice (like gondolas moving through an artificial canal), and storefronts replicating Italian architecture. The whole place is a wonder, whether or not you're usually one to stop and spin the slots.
7. Watch a Family of Pandas
This is an idea that was recommended in a piece at Poker.org about what to do after cashing out at the casinos. And that very notion more or less captures what's so great about Macau! You can enjoy luxurious surroundings and a bit of gaming activity, and find yourself observing pandas an hour or so later. The article points out that while we associate giant pandas primarily with mainland China, they live in Macau as well –– and you can visit them specifically at Seac Pai Van Park. You'll get to see a couple of these magnificent animals raising their twins in a beautiful garden.
8. Climb the Eiffel Tower at the Parisian
While the aforementioned Venetian tries to replicate a small piece of Italy, The Parisian's biggest attraction is its replica of the Eiffel Tower. The structure is, as you'd guess, smaller than its counterpart in Paris. But it's also full of beautiful details, and still, an excellent place from which to admire the city –– especially at night. Our recommendation: Wait until your last night in town, and then climb the tower to take it all in at once.
There are few places that offer the variety, entertainment, and beauty of Macao. You can find a mix of amazing architecture and food, stunning shows, and world-class poker and gaming venues, all in one spot. It's an excellent place to put on your list, and if you're looking for even more wonderful travel suggestions, please feel free to browse the travel section here at Outfit of the Diva.