Rishikesh is a hill station and a spiritual hub in Uttaranchal. Popularly called the 'Yoga capital of the world' and the 'Gateway to the Himalayas', Rishikesh offers a calming experience for tourists looking to rejuvenate their senses. As Rishikesh is the starting point for Char Dham Yatra, this place holds religious significance for the Hindus.
Both national and international tourists visit Rishikesh to gain spiritual enlightenment. Hindi and Garhwali languages are spoken here with Hindu festivals like Diwali and Holi celebrated here with great enthusiasm and fervour.
Ideal Time to Visit
February to March and August to October are the best times to visit Rishikesh as the climate is pleasant during this time. Avoid travelling during the monsoons as the hilly region becomes dangerous due to landslides.
Feel the thrill as you drive through the magnificent foothills of the Himalayas. Cab service from Delhi to Rishikesh takes around 5 and a half hours to travel a distance of 230 km via NH334 to reach this quaint town. Tourists who hire a Delhi to Dehradun Taxi need to travel a distance of 283 km in 6 hours. From Dehradun, Rishikesh is only one and a half hour away.
A Spiritual Sojourn
Apart from local sightseeing, Rishikesh offers various opportunities for spiritual relaxation in a tranquil and peaceful atmosphere. Start your day with a dip in the holy Triveni Ghat. Situated near Ram Jhula, Triveni Ghat is a confluence of three rivers that can be easily reached by an auto rickshaw.
A walk on the bridges of Ram and Lakshman Jhula will help to soak in the beautiful atmosphere while admiring the serene river.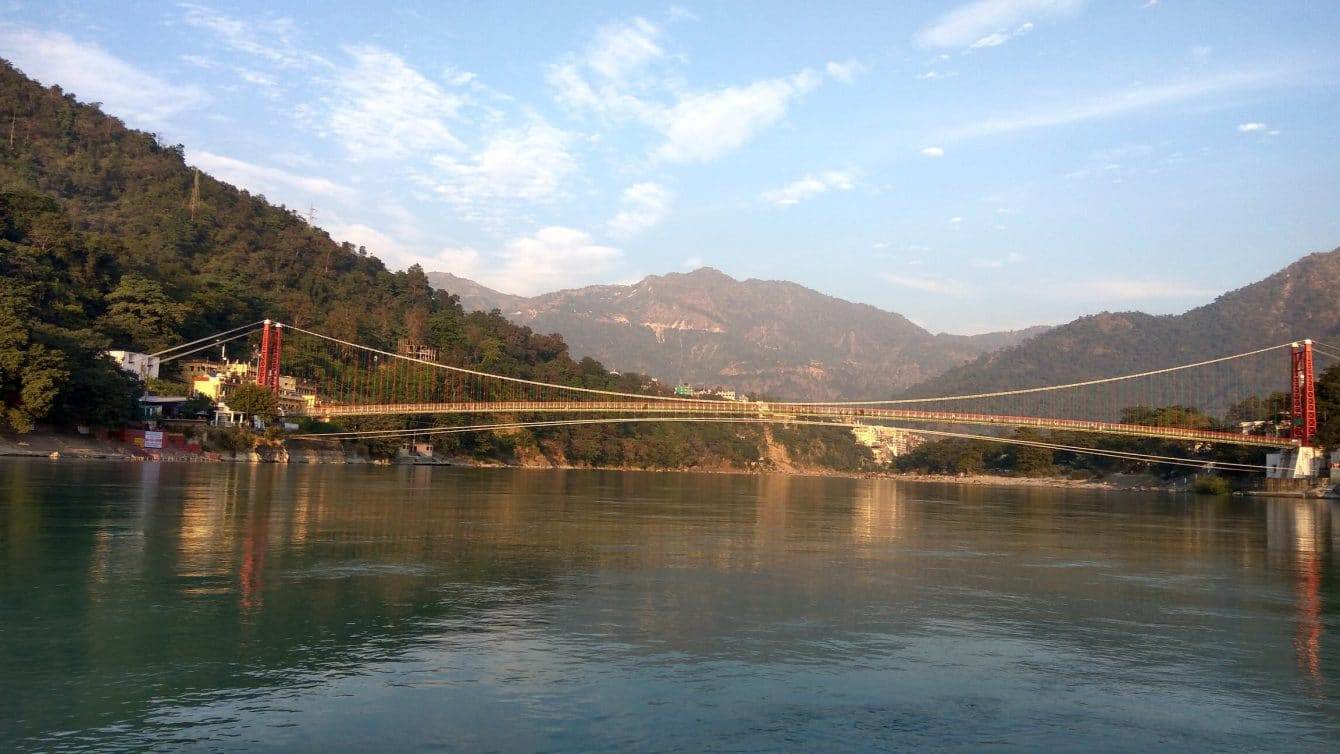 There are innumerable temples in Rishikesh. Visit the Neelkanth Mahadev Temple depicting the Samudra Manthan. The Kunjapuri Temple, Parmath Niketan, Tera Manzil and Trayambakeswar temple are some of the oldest temples where you can sit to seek inner peace. Round off the day watching the fire ritual or Ganga Aarti that offers a beautiful sight. The beat of the drums accompanied by chants create a mesmerising sight as the lights of the earthen lamps infuse you with a feeling of divinity.
Rishikesh is the centre for yoga, meditation and Ayurveda where spiritual seekers come to find salvation from worldly pains at the myriad ashrams and Spa therapy centres. Practice meditation at the Maharishi Mahesh Yogi ashram that has been made famous by the Beatles who had lived here for some time. Relax and chant mantras in the Shivananda Yoga Ashram, Patanjali International Yoga foundation or Shree Mahesh heritage. Meditate with prayer beads and listen to spiritual lectures in Yoga Niketan. These ashrams have good amenities for tourists and are available at an affordable budget.
Nature lovers can drive to the Neer Geer waterfall where photographers and trekkers will be enthralled by its stunning beauty. Rishikund is a notable hot water spring.
Rent a bicycle or motorbike to go around the rocky terrains and watch the mesmerising sunrise and sunset near the Kunjapuri temple. The natural beauty of Vashishta Gufa and Shivpuri can only be experienced not described.
Delectable Street Food and Shopping Hubs
Due to its religious significance, mostly vegetarian food is served here. Eateries in Rishikesh offer lip-smacking snacks like jalebis, imartis and samosas. The tasty mango lassi at the reputed Pappulassiwala, sumptuous kachoris in the Rajasthani Restaurant, masala chai at Prem's Namaste Cafe offers unforgettable treats. Choose between healthy bites at Ayurpak, or traditional fare at Chotiwala restaurant. South Indian cuisine at Madras cafe and the old German bakery provide good food with riverside views. The continental dishes at the Sitting Elephant are not to be missed.
The shopping areas around the Lakshman Jhula Market and Ram Jhula Market are the best places areas to shop for clothes, jewellery, precious stones, books and spiritual souvenirs. Local items can be bought from the Swargashram market and the Rishikesh main market near Triveni Ghat area.