A lot of girls give up on capris because these cute little things can be hard to style. I mean, it's totally understandable if you have not been able to style a Capri like you style the rest of your clothes. However, with so many capris online, don't you feel tempted to buy yet another piece and try to pull it off like a star? If you do, here are a few ways to get around the problems that an average girl faces while styling a Capri pant.
Length of the Capri
The length of the Capri is the most important thing to consider. A long Capri can make your calves look more prominent than usual, and a too short Capri can make your legs look thinner. The trick is to buy a Capri that ends just around the slimmest part of your leg. This length is the sweetest spot to style a Capri pant. This sweet spot is different for everyone; and thus, you will have to try a few capri pants before picking the right one for yourself.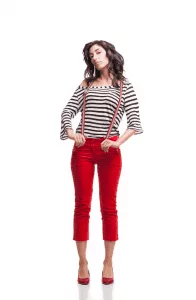 Width of the Capri Pants
Make it a thumb rule to:
Not buy pants with wide leg openings if you are heavy and short. This Capri style will make you look even shorter and wider. Plus, it will break your silhouette.

Always invest in capri pants that are tapered or straight. These capris make you look long and sleek.
The waist of Capri Pants
Pick a high waist Capri if you have short legs. The high waist will produce an illusion of you having longer legs. Also, make sure that your top allows the world watch the high waist of your Capri for this trick to work.
BUT, if you have a short stomach, and long legs, pick a Capri with a low or mid-rise waistline.
Ornamentation
If you are heavy or short, stay away from capris that have excessive ornamentation or have deep pockets. More ornamentation means that the Capri is going to make you look thicker and heavier. Why would you want that?
Quick Color and Pattern Tips:
You can go single color from head to toe, and it would look fantastic. Think

power colors

like black on black.

Do not pair bright colored tops with bright colors capris. Create combinations that are contrasting. For example: red with white, black with white, yellow with white, pink with black, yellow with black and so on.

Wear low-heel and straightforward sandals or pumps. Do not opt for sneakers unless you want a sporty look. Mules and other such shoes are a total no.

Neutral colored capris, like black, grey, blue and brown look the hottest. Moreover, these colors do not require a lot of thought while styling. However, for a more modern and fresh look, equip your wardrobe with colors like blue and red.
Capris do not fit every occasion, and every occasion does not fit every color. Therefore, choose the color, patterns, and style wisely. Follow the above tips while buying capri pants, and I promise you will end up investing your money in the perfect piece.