A day cream is a moisturizer that usually contains ingredients to protect the skin after the morning's cleansing and before the evening's moisturizing. Day creams are often thicker, oilier, and more emollient than night creams. They are designed to give the skin an extra boost of hydration when it needs it most. The Lakme Vitamin C+ Day Cream is no different. It is loaded with ingredients that promote health and hydration. Let us dig deeper into the Lakme Vitamin C+ Day Cream Review review.
Lakme Vitamin C+ Day Cream Review
Lakme Vitamin C+ Day Cream is a beauty product that is marketed towards women and helps brighten and protect the skin from environmental stressors. The cream is made with a combination of Vitamin C and antioxidants, which are essential ingredients that provide a range of benefits for the skin. Vitamin C helps to reduce the appearance of dark spots, even out the skin tone and promotes collagen production for firmer skin. The antioxidants help to protect the skin from UV rays and other environmental stressors that can cause damage and premature aging. The product is suitable for everyday use and can be applied in the morning as part of a daily beauty routine.
The day cream is a part of the Vitamin C+ range that was launched by Lakme sometime back. The range was able to create a decent amount of buzz on social media, and in my opinion, it did rightly so. The day cream promises soft and supple skin, a glow on the face, and a better visual appearance.
The day cream boasts of the ingredients that provide Vitamin C, Vitamin E, and moisturization to the skin. It can be used on all skin types; it is less oily as compared to many other day creams that I have used in the past.
Before we discuss the pros and cons of the Lakme day cream, let's quickly run through its main ingredients.
Lakme Vitamin C+ Day Cream Ingredients
In the Lakme day cream review, we are going to discuss the importance of the three components that make this day cream worth your time and money.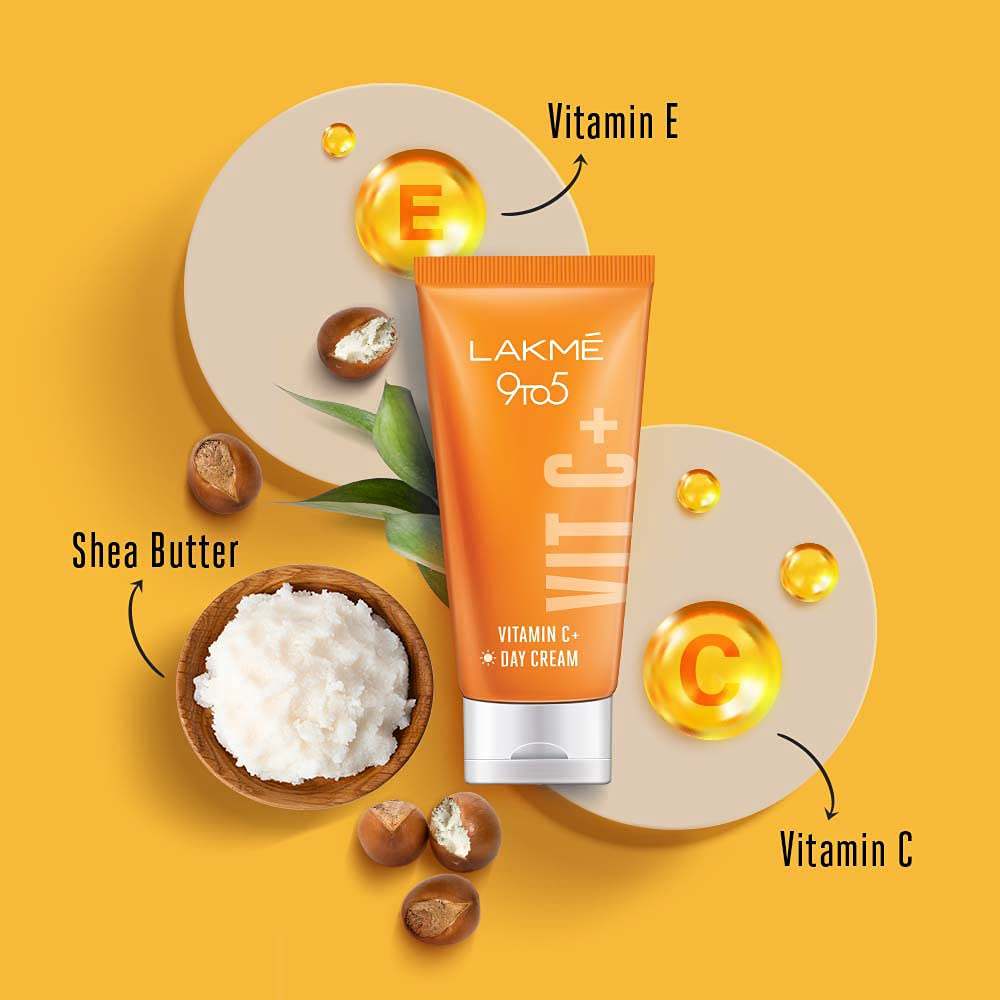 Vitamin C
Vitamin C is a powerful antioxidant that has been shown to have many benefits for the skin. Vitamin C promotes a healthy inflammatory response in the body, can contribute to wound healing by inducing collagen production, and can help protect against drying out of skin from harsh environmental conditions such as cold or heat exposure.
Skin with vitamin C deficiencies is more likely to react badly to sun exposure, which can lead to chronic sun damage and an increased risk for skin cancer. This may be due to the fact that when vitamin C is too low in the body, it will not produce enough collagen, which makes the skin less elastic and more fragile. Inadequate levels of this essential nutrient may also limit its function as an antioxidant and free radical scavenger for the cells.
Vitamin E
Vitamin E is a fat-soluble antioxidant that helps protect the skin from environmental damage. It slows down the accumulation of icky, clogging dead skin cells, and boosts the production of essential fats. This vitamin contributes to healthy-looking skin on the outside and may even help prevent wrinkles.
Vitamin E can be used on scars, dry patches of skin, wrinkles, and other signs of aging. It can also be added to moisturizers in order to boost their effectiveness.
Shea Butter
Shea butter is an ingredient that has been used for centuries in Africa. It was used to protect the skin and promote healing. In modern times, shea butter has been found to be rich in antioxidants, vitamins, minerals such as magnesium and iron.
Shea butter is a natural moisturizer for the skin that penetrates the surface to provide deep hydration. This property makes it perfect not only for people with dry and damaged skin but also for those with acne-prone skin or eczema. Shea butter is also effective as an anti-inflammatory agent which makes it perfect for people who suffer from psoriasis, dermatitis, and other conditions caused by inflammation of the skin.
Pros of Lakme Vitamin C+ Day Cream
The cream contains a decent amount of Vitamin C, which is also known as the beauty vitamin. It is a rich source of antioxidants.
The cream fights signs of aging, pollutants, free radicals, and sun damage.
Shea butter has excellent nourishing properties. Vitamin E is a wonderful healer for the skin.
I found the cream non-greasy during Lakme Vitamin C+ Day Cream Review.
The small size of the tube makes it travel-friendly. It can be easily stored in a purse or a bag.
The cream feels light on the skin.
It absorbs quickly into the skin.
It is a budget-friendly solution.
Cos of Lakme Vitamin C+ Day Cream
The texture of the cream is a little liquidy. It could have been a little denser.
I am not sure about the glow part. I feel the smoothness in the skin after 4 days of usage, but I am yet to see the shine on the skin.
It has a mild orange fragrance, which although not irritating, but could be a problem for some people.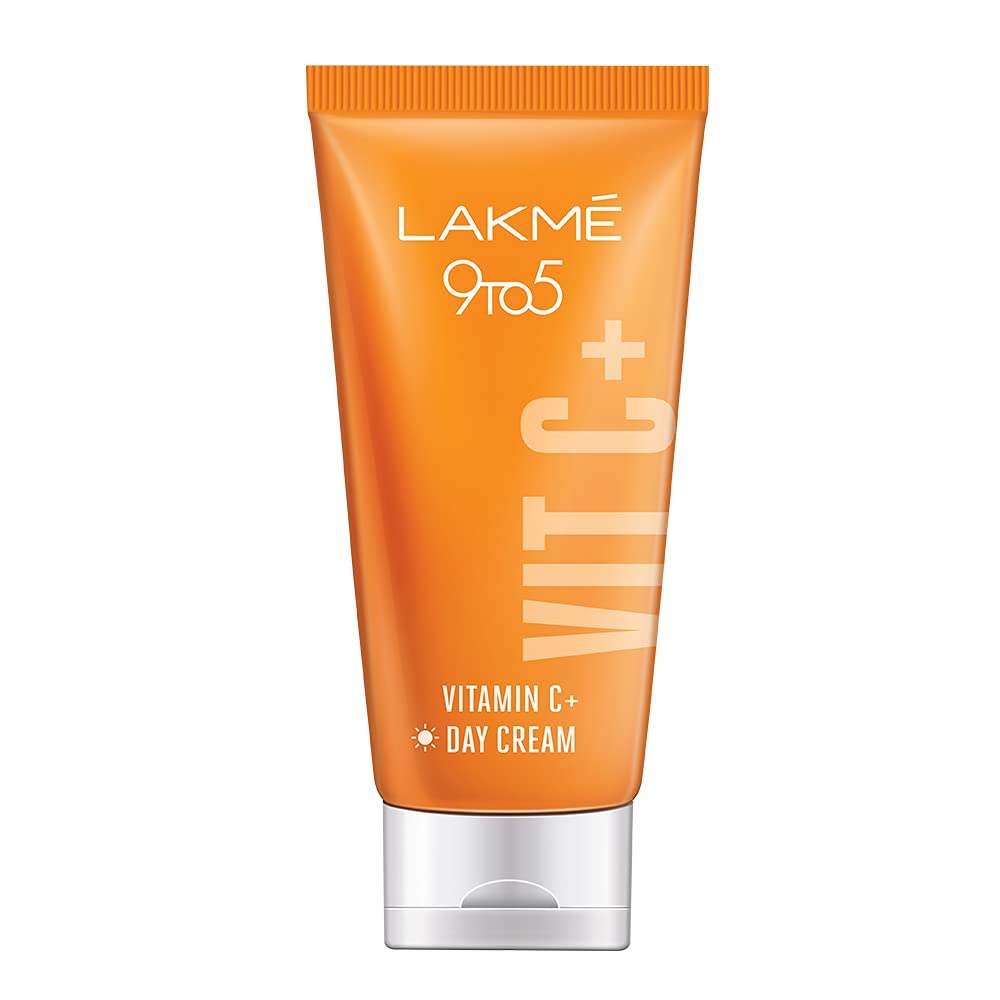 Lakme Vitamin C+ Day Cream Review
Usability

Effectiveness

Affordability
Summary
The day cream has ingredients that provide Vitamin C, Vitamin E, and hydration to the skin. It is perfect for all skin types, it doesn't leave your skin feeling oily or greasy.
How To Use It?
The cream can be applied like any other day cream. After your morning routine, take a few drops of the cream on the palm and massage your face using your fingers and palms. Move your hands in a circular motion. Refrain from applying pressure on the skin. Your skin should absorb the cream quickly.
Make sure to wear the cream before you step out of your home.
Should You Buy Lakme Vitamin C+ Day Cream?
As far as my personal experience with the Lakme Vitamin C+ Day Cream review is concerned, I find no reason why you should not invest in the product. It has all the right ingredients, delivers what it says, and is inexpensive.
The Lakme Vitamin C+ Day Cream is better than a lot of expensive day creams that I have used in the past. Also, if you have combination skin, this cream will do wonders for you.